COUPLES
George Takei Fires Back at Shatner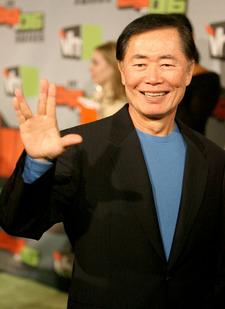 In an odd four-minute YouTube speech, William Shatner responds bitterly to the question of why he wasn't invited to Star Trek co-star George Takei's wedding.
"Well the whole thing makes me feel badly," he says in the video. "Poor man, there's such a sickness there. It's so painfully obvious there's a psychosis there."
Apparently William thinks he was left off the guest list because of something George has held against him for years, but he plays clueless in the video.
Article continues below advertisement
"I don't know what his orginal thing about me was," he says. "I have no idea."
But now George has responded to William's video missive, saying Captain Kirk was invited to his Sept. 15 wedding ceremony.
"It's absolutely baffling to us because we did invite Bill and we didn't hear from him!" George tells Entertainment Tonight. "But it wasn't surprising because it's true to his history. He's never responded to an invitation. Every time there was something happy to celebrate amongst us, he never showed up."
As for William's comments that George is suffering from a "psychosis," he fires back, "I think his stability is quite questionable. Bill likes to be the star of the show. He likes the attention focused on him. It's a big, shiny, demanding ego. It's all typical of Bill. His ranting and raving is just silliness."
Don't expect the newlywed to bear a grudge against his former co-star, however. George says he'll keep doing what he always has when it comes to William.
"We keep reaching out and he takes it and turns it into something ugly. But I'll keep extending a hand to him."
Tune in to ET this evening for more, and watch William Shatner's message to George Takei below: