COUPLES
Howard & Beth: Nice Name!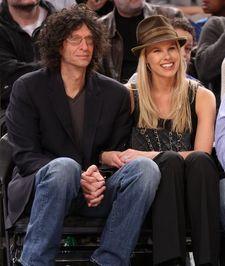 At the North Shore Animal League America's DogCatemy Celebrity Gala in NYC on Nov. 6, Howard Stern told OK! that being married "feels different." Stern, 54, and Beth Ostrosky, 36, tied the knot on Oct. 28. Of sharing his name with his new bride, the shock jock told OK!, "I'm proud Beth is sharing my name. Not many people would want that."
Howard presented Beth with the Crystal Angel Award, who told OK! that her parents "love Howard."
Article continues below advertisement
Winning the parents approval is something the radio deejay is used to. This is his second try at marriage. Stern wed first wife, Alison, in 1978 and the two had three daughters. Their relationship was famously documented in the film Private Parts. Four years after the movie came out, the couple divorced.
Stern, who vowed on his radio show never to marry again, met Beth in 2000. They became engaged in 2007.