COUPLES
It's Official: Pam Marries Hubby #3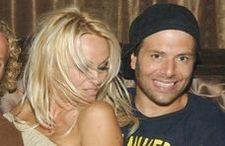 Less than a year after ending her brief marriage to Kid Rock, Pam Anderson has done it again — gone off and gotten hitched. Having previously said "I do" to two successul rock stars — her first husband was Motley Crue drummer Tommy Lee — the 41-year-old actress/magician's assistant has opted to go for the other end of the spectrum, marrying a guy with no discernible connection to rock music.
Regardless, Pam and new hubby Rick Salomon, most famous for doing the dirty on video with Paris Hilton (and allegedly selling the tape for personal gain), exchanged vows and swapped spit at a private villa in The Mirage Hotel and Casino in Las Vegas, down the street from Planet Hollywood, where the former Baywatch babe now makes a living as eye candy in their stage show "The Beauty of Magic."
Article continues below advertisement
While all the details have yet to be released, given Pamela's past wedding spectacles (her wedding to Tommy in silvery alien costumes; the multiple around-the-world ceremonies with Kid Rock), one would not be surprised to hear that a sequined elephant and a tuxedo-wearing monkey were involved.