COUPLES
Jade Goody's Last Party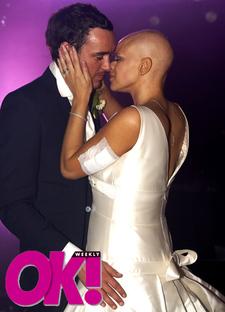 Last week, OK! brought you the heartbreaking tale of Jade Goody, the British reality TV star who finally fulfilled her dream of getting married, just weeks before she is expected to succumb to the cancer that riddles her body.
On Feb. 28, Jade was rushed to the hospital with an oxygen mask clutched to her face after her condition deteriorated. Jade, 27, mother to sons Bobby, 5, and Freddy, 4, wed Jack Tweed, 21, near London on Feb. 22, in an emotional ceremony in which she was barely strong enough to walk down the aisle.
Article continues below advertisement
Now, in the second part of Jade's extraordinary story, OK! exclusively reveals details of the party the night of the party, including the moving speech from Jade's eldest son, Bobby, in which he calls her "the best mommy in the whole wide world."
After the wedding ceremony and before the big dinner, ex-Big Brother star Jade, whose cervical cancer has spread to her liver, bowels, groin, and as of March 3, her Brain, was forced to lie down while nurses administered drugs to ease her pain.
She then rejoined the party and heard Jack salute her courage. "I want to say how beautiful my wife looks tonight," said Jack, who was given special permission to spend the evening with Jade, as he is currently serving an 18-month jail term for assault. "I don't think there's been a man prouder than I am tonight."
But then, as the clock neared midnight, Jade began to feel unwell, blood trickling from the bandage on her arm protecting her IV drip incision. She agreed to be taken to her hotel room in a wheelchair.
She later recapped the day to OK!, saying, "I am so happy. I have married the man I love and all the people I love were there to see me do it. Our last kiss felt like we were in paradise. We feel like we're in heaven."
For the entire story on Jade's Last Party, pick up the new OK! — on newsstands everywhere Thursday.