COUPLES
Jen Wants a Wedding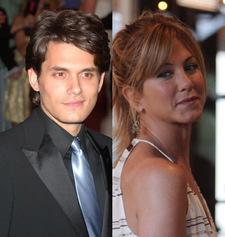 Jennifer Aniston has made her love for John Mayer no secret. Since making their romance public in May, the actress has traveled the world by his side. Now there's just one more trip she'd like to take with her tall, dark and handsome beau: A walk down the aisle!
"Jen is so in love with John — they are already talking marriage," an insider tells OK!. "I would not be at all surprised to see Jen and John make it legal sooner rather than later. In fact, I would be shocked if they didn't tie the knot before her 40th birthday in February!"
Article continues below advertisement
Jen,39, who traditionally has limited most of her travel to work, has been making slow, but obvious changes since hooking up with Mayer,30. In June, they vacationed at Girls Gone Wild founder Joe Francis' beachfront villa in Mexico before heading to Amsterdam and England, where John was performing on tour. In early July, they were back in the United States, where Jen attended John's shows in Wisconsin, Missouri and Michigan.
At his concert in Camden, N.J., on July 10, the singer's cousin told OK! exclusively that John, 30, and Jen are "really happy" with their relationship right now.
Still, if Jen had her way, it won't be long before they make it official. "Jen's greatest hope is to remarry," reveals the insider. "She's made her intentions known to all her closest friends. When you see Jen with John, it's obvious how crazy she is about him."
Another pal tells OK!, "It took a while, but Jen is finally getting her life in order." "She has three movies coming out in the next six months. She has a top-secret business venture she'll be announcing before the year's end. Her new house is finally nearing completion. It's like her whole life is coming together and a wedding will complete the picture."
For the complete story on Jen's wedding plan, pick up the new OK!--on newsstands everywhere on Thursday!