COUPLES
Jen's Happy for Vince Vaughn!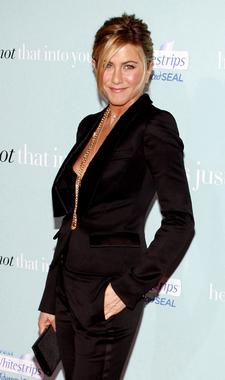 Jennifer Aniston doesn't hold a grudge when her former flames find true love. In fact, she sent Vince Vaughn a message to congratulate him on his engagement to Canadian real estate agent Kyla Weber.
"Jen couldn't be happier for Vince," an insider tells OK!. "She still considers him a friend and is delighted for him. She wanted him to know that."
Jen, 40, and Vince, 38, began dating in the summer of 2005 while shooting The Break-Up; they split in November 2006. He now joins a line of Aniston exes who've gone on to solid relationships.
Article continues below advertisement
She was married to Brad Pitt from July 2000 until their infamous split in January 2005. (He's been with Angelina Jolie ever since, in case you weren't aware). Jennifer also dated model Paul Sculfor, who is now the serious boyfriend of Cameron Diaz.
Meanwhile, she recently marked her year anniversary with beau John Mayer, 31 — but they have yet to seal the deal.
As for Vince, whose next film, Couples Retreat, will be out in October, his rep tells OK!, "We have not confirmed nor have we denied the engagement."
<a href="http://www.okmagazine.com/pixandvids/gallery/9410/" target="_blank"><img src="https://farm4.static.flickr.com/3379/3182836637_f69d108eed_o.jpg" width="426" height="70" alt="aniston" /></a>