COUPLES
Jessica Alba's Dad Calls Wedding "Good News"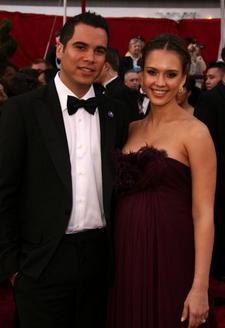 Jessica Alba's father is "happy" for his daughter's to Cash Warren.
"I'm glad for her," Mark Alba tells . "She's a beautiful girl. I'm her dad and I'm happy for her no matter what happens."
Calling the wedding "good news," Mark remarks that the private ceremony without guests, which took place at a Beverly Hills courthouse on Monday morning, was successfully kept on the down-low.
Article continues below advertisement
"It was well-hidden from the paparazzi — and a lot more," he says.
More good news is on the way for Mark, who will become a grandfather for the second time in the coming weeks when Jessica, 27, gives birth to her daughter. Jessica's brother, Joshua, 25, has a son.