COUPLES
Kate & Anne Talk Weddings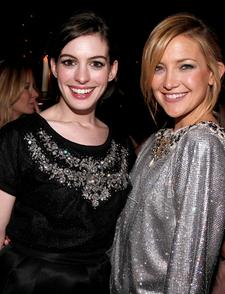 Kate Hudson enjoyed a shortlived marriage to rocker Chris Robinson (they split after six years in 2006) while Anne Hathaway's ex-boyfriend, con man Raffaello Follieri, is currently in jail for fraud. But has that dented the Bride Wars co-stars' love of romance?
Heck, no!
"I think any girl dreams of her wedding day," Kate, 29, tells the February issue of Modern Bride. With the movie hitting theaters Jan. 9, Anne, 26, admits, "I'll listen to a song and think, 'I want that at my wedding!' "
Article continues below advertisement
What about prepping for the dance floor?
"Kate would advise everyone to take a pole-dancing class!" jokes Anne.