COUPLES
Mena Suvari's Ready to Remarry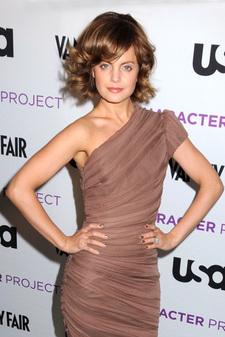 Mena Suvari hasn't yet set a date for her nuptials, saying they'll take place "maybe next year," but she is moving full steam ahead with the planning aspect.
The actress, 30, announced her engagement to music producer-promoter Simone Sestito in July, and hopes to wed in Italy.
So what's her favorite part of arranging her nuptials?
"Knowing that one day it will happen," she tells OK! during USA Network's American Character: A Photographic Journey launch held at Stephan Weiss Gallery in NYC on March 12. "I think it's just the whole essence of it. Thinking about how it should really be your most important, special day, and getting your family together. Simone and I really want to make it everything we always wanted it to be."
Article continues below advertisement
After Suvari ended her marriage of six years to cinematographer Robert Brinkmann in 2006 citing irreconcilable differences, Simone gave her the courage to fall in love again. They met in L.A. through a mutual friend, and reconnected during the Toronto International Film Festival in 2007. They've been together ever since, and she is certain he's "The One."
"I think you just know," Mena reveals to OK!. "It's a feeling. Yeah. Relationships are challenging, but I love him and he's very good to me. I think you know when you know."
Bouncing back after divorcing a man 17 years her senior wasn't easy, but she's come out on top. What advice would she share with others in dealing with divorce?
"I think it's most important for people to get in touch with themselves and really get to know who they are and what they want and establish goals," Mena tells OK!. "Be positive. There's only sunshine that lies ahead. You have to continuously move forward because it doesn't make sense to live in the past."