COUPLES
Mena Suvari's Roman Wedding Plans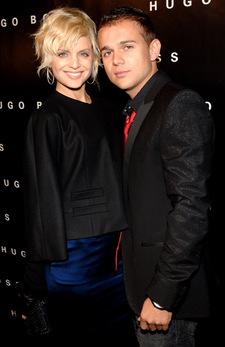 When OK! caught up with actress Mena Suvari and fiancé, concert promoter Simone Sestito, at the opening of the new Hugo Boss store in NYC's Meatpacking District, we wanted to know how the couple were doing with plans for their upcoming nuptials.
And while the couple says they're taking their time to make sure they get everything picture perfect, they did reveal that they're heading to Europe next week to seek out the ideal Italian site for the ceremony.
Article continues below advertisement
"We're getting married in Rome," Simone tells OK!. "That's where I'm from and I have a lot of family there so we just decided that would be the best place."
And the timing couldn't be better for their church-hunting expedition. "We're going there for the Rome Film Festival because I have a movie premiering there called Garden of Eden," Mena explains to OK!. "So we're going to use the opportunity to look at a few places."
Mena, who tells OK! she'll be wearing a wedding gown designed by a friend at Alice + Olivia, says that she sees the big day in her mind as, "Definitely something big and romantic... Italian weddings are always big."
With so much to plan, it's no surprise that Mena and Simone aren't jumping the gun on their "I do"s.
"It's a lot of planning," she explains. "We're taking our time with it. I really want it to be right. We're not rushing. I don't want to do that because I want to look back and have it be everything that I wanted."
Article continues below advertisement
After all that wedding talk, we had to know if the couple, who got engaged in July while on vacation in Jamaica, are already thinking about kids. "Not soon," Simone reveals to OK!. "But definitely for sure. I'm very traditional... I want three kids."
So what is the secret to their happiness? "I guess we kind of have the same lifestyle," says Simone. "I'm in the music business so I'm always on the road doing concerts and stuff. She understands what I do and I understand what she does so it works well."