COUPLES
OK! Cover Story: 'Teen Mom 2' Star Leah Messer's Dream Wedding to Jeremy Calvert!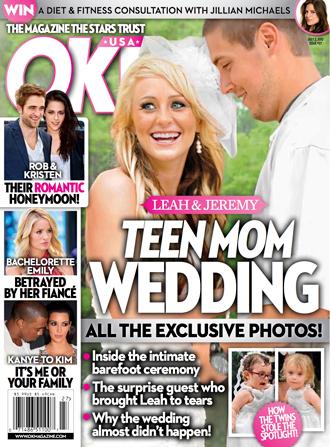 Article continues below advertisement
"We knew it was going to rain, but we didn't think it would be this heavy," a wedding guest tells OK! exclusively. "Everyone waited in the cars for a while." For a moment, there was discussion of moving the June 11 ceremony indoors, to the restaurant where the reception was planned.
Some even worried that the wedding wouldn't go on. But it was Leah, 20, who made the final decision.
"Leah looked at me and said: 'This is good luck. The rain is good luck,'" says Linda Gross, Leah's wedding planner from Lovers Lane Weddings in Myrtle Beach, S.C.. "You hear about these 'bridezillas' who complain and gripe about everything, but Leah was there to celebrate their love. That's what it was all about."
Everyone who loves Leah and Jeremy — about 30 guests in all (plus MTV's Teen Mom 2 cameras) — had driven down to South Carolina for the event that began when her twin daughters, Ali and Aleeah, came down the aisle as flower girls, along with their grandmother Dawn and Jeremy's mom.
"The girls were loving the rain," says the wedding guest. "They were so cute."
Leah made her entrance barefoot because of the wet sand, and on the arms of two men: her stepfather, Lee Spears, and a very special surprise guest, her biological father, Gary Messer.
Article continues below advertisement
OK! NEWS: COVER STORY: LEAH MESSER'S HEARTBREAK — SHE SUFFERS A MISCARRIAGE
Leah and Jeremy said their vows — repeating words Linda, who was also the officiant, wrote for them. Guests said the couple, who became engaged last December, just weeks before Leah suffered a miscarriage, were too happy to be bothered by the rain. "She and Jeremy looked at each other when they said their vows, and it got a little emotional," says the guest. "It was really sweet."
The couple were legally married in April, but this second, larger wedding and reception was a true celebration of having found each other after all the heartbreak Leah has known. And this time Leah hopes that it's for keeps.
FOR MUCH MUCH MORE ON LEAH & JEREMY'S WEDDING, INCLUDING EXCLUSIVE PHOTOS, PICK UP THE NEW ISSUE OF OK!, IN STORES NOW!