COUPLES
OK! Exclusive: Brad & Angelina Marriage Reports False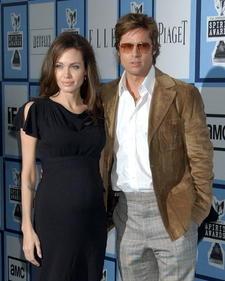 After much hoopla and ballyhoo on the Internet Saturday night, it looks like rumors that Brad Pitt, who famously once said that he would get married again when everyone in the United States could also do so, had said ,"I do" to gal pal, and mother of his children, Angelina Jolie in a ceremony in New Orleans are just that — rumors.
"Brad Pitt and Angelina Jolie were not married in our chapel, period," Reverend Anthony "Ambassador of Romance" Talavera, proprietor of the French Quarter Wedding Chapel in New Orleans, where the couple were rumored to have tied the knot, tells OK! exclusively. "I've never even met them."
Article continues below advertisement
The good reverend goes on to say that one particular media outlet really wants this story to be true. "Star magazine offered me $3000 for an interview, and I turned them down," he explains. "I would never divulge any information about any of our clients for money.
Reverend Talavera did say, however, that he is "delighted that Brad and Angelina have chosen to live in our beautiful city, and I wish them all the happiness in the world, whatever their marital status."
While there's been no official denial from the Brangelina camps, when reached for comment on the rumors, Brad's rep would only say to OK! that she had "no idea" if they were true or not.