COUPLES
OK! Exclusive: Britney's Church Breakdown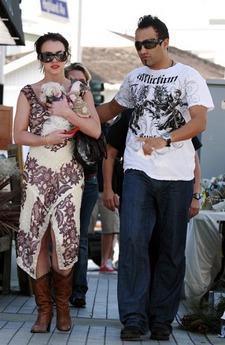 A spokesperson for the Little Brown Church in Van Nuys, Calif., confirms exclusively to OK! that and her beau Adnan Ghalib were indeed at the place of worship on Monday following her quick visit to the courthouse. And witnesses tell OK! that the pop star had a minor meltdown inside — but were they there to get hitched?
That would have been impossible, with Adnan already being married and no one but the nighttime caretaker on-hand."No weddings were booked because the pastor's stepmother passed away and he is out of town attending the funeral," the church's spokesperson explains to OK!. It has also been confirmed that no weddings were held today or booked for the next week.
Article continues below advertisement
So why were they there? "The church is a place of prayer open 24 hours of day for people seeking peace," says the spokesperson. Perhaps Brit was looking for the strength to deal with today's flubbed court hearing?
Following the quick visit to the church, the pair headed over to Gaucho Grill on Ventura Blvd., where they are enjoyed a meal together with Sam Lutfi, who drove them both to and from the courthouse this afternoon. But according to eyewitnesses, all was not well.
"She had cried all of her makeup off," one person outside the restaurant tells OK!. "She needed help walking and standing."
The pop star was driven back to her home behind the gates of The Summit around 3:45pm PT, and she is not expected to attempt to make an appearance at the court again today.