COUPLES
OK! Exclusive: Inside Parminder Nagra's Wedding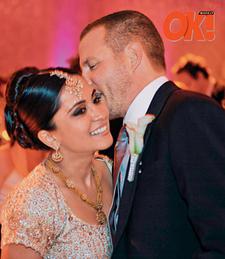 Inside the L.A. home of ER star Parminder Nagra, and photographer James Stenson, friends and family gathered to watch the couple wed in a Sikh ceremony, known as the "Anand Karaj" on Jan. 17.
The translation, "blissful union," was fitting, as the British-born couple, who are expecting their first baby this summer, merged traditions from the East and West in a daylong celebration of dancing and music.
Article continues below advertisement
CLICK HERE for OK!'s Exclusive pics of the wedding!
Parminder, 33, whose parents are from the Punjab region of India, and James, 34, were blessed by an Indian priest in the afternoon, then moved to the Four Seasons Los Angeles at Beverly Hills for a civil ceremony officiated by Parminder's recently ordained ER castmate Maura Tierney.
Two of the NBC show's other stars, John Stamos and Scott Grimes, offered their services in the form of a wedding band, their gift to the couple.
Guests dined on Indian- and British-inspired dishes like beef tenderloins and vegetable samosas, while being entertained by the Indian dance troupe Bollywood Step.
CLICK HERE for OK!'s Exclusive pics of the wedding!
For OK!'s exclusive interview with Parminder and James, pick up the new issue of OK! — on newsstands everywhere now!