COUPLES
OK! Exclusive: Mel B. & Hubby to Remarry!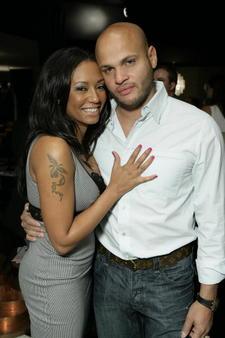 When OK! caught up with Stephen Belafonte before last night's Victoria's Secret Fashion Show, the music producer hubby of Melanie "Scary Spice" Brown, a simple question led to a pretty major revelation. Considering his wife of almost six months — the pair was secretly wed June 6 in Las Vegas — has made it to the semifinals of Dancing With the Stars, OK! inquired whether Stephen had plans on brushing up on his steps to keep up with his Spice Wife, he said "when we have our big official, formal wedding I may surprise some people."
Article continues below advertisement
So... is the couple making plans to finally have that dream wedding, complete with flower girls, bridesmaids and a church? Well, since Stephen quickly went quiet when his slip of the tongue was brought to his attention, OK! is still investigating. Likely, any huge ceremony would have to wait several months as the reunited Spice Girls are set to head out on their first tour in early December.
Speaking of the Spice Girls, they were the star attraction at last night's show, wowing the audience as they took to the stage for the first time in a decade. Dressed in 1940s military inspired outfits, the glam gals and their khaki clad troupe of male dancers performed in front of the word "SPICE" spelled out in mammoth, glittering letters as they sang their one-time chart-topper "Stop." As they sang, Heroes star Hayden Panettiere, who told OK! she's already got tickets for their upcoming tour, sang along from her seat, while Jeremy Piven rocked in appreciation. At the end of their first performance, the Spices huddled together at the end of the runway and hugged each other enthusiastically. They later returned for a performance of their latest song "Headlines," ditching complicated dance routines, opting to pose in decadent gowns.
So is this what can be expected from their tour? "We've got great dances," Melanie "Sporty Spice" Chisholm told OK!, "and loads of energy and some really crazy costumes."
Check their performance out for yourself when CBS airs the show on Dec. 4.