COUPLES
Rachel McAdams Shines During 'Married Life' Screening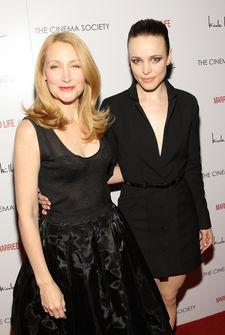 Rachel McAdams is a doll when we meet up at NYC's Tribeca Cinemas before a special screening of Married Life presented by The Cinema Society and Nicole Miller.
The 1940s crime drama tells the tale of a man who plots to kill his wife instead of divorcing her so he can take up with a younger woman.
Would Rachel rather live in the 1940s?
"Yeah, sure, why not?" she says. "The fashion was incredible and so glamorous. The dancing and social events would be a lot of fun. There was a little more formality. I kind of love that."
Article continues below advertisement
While Helena Christensen noshes on popcorn and Pepsi, Patricia Clarkson walks the line. Does she think the institution of marriage is outdated?
"No," she tells me. "I very much believe in the institution of marriage. I've never gone to that institution. Hahaha. I've never entered the halls of marriage, but I believe in it. My parents have an almost 55-year marriage, and my sisters have great marriages, and I have friends that have beautiful marriages. You never know. I might someday get married — maybe."
Morgan Freeman and his daughter stop to chat before she leads him into the theater. "She's holding my hand because she's my guide," he says.
Would Chris Cooper rather break someone's heart or endure heartbreak? He picks the latter. "I was never able to confront the girlfriends when I knew we were bound to break up," he tells me. "I always let them break up with me."
Here is Howard Stern's fiancée Beth Ostrosky, who is always awesome. She tells me she's getting ready to pick out a wedding dress for her October nuptials.
Article continues below advertisement
Director Ira Sachs praises Rachel.
"Rachel understands what it is to be a movie star," he tells me. "She has the beauty, but she also has the mystery. She has an emotional availability, but there's also something she's holding back. That's what makes someone a star."
What about Pierce Brosnan, who also stars in the flick?
"Pierce has never been better," he tells me. "He has humor and vulnerability. I think he's a great comic actor in the vein of Cary Grant."
Married Life opens today in select cities.