COUPLES
Red Carpet Confidential: Katrina Bowden Gets Into Wedding Mode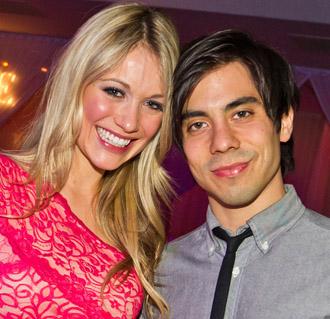 Although Katrina Bowden and fiancé Ben Jorgensen visited Las Vegas this week, they weren't scoping out wedding chapels.
The couple, who got engaged in January, haven't set a date, but they have firm ideas in mind.
"I really want an outdoor wedding on the East Coast, where both of our families still live," the 30 Rock star, 23, tells me. "Something elegant, but fun and inviting - gardens, cherry blossoms, candles. Of course, I want everyone to have a fun time!"
Article continues below advertisement
It's only fitting that it would be a fairytale beginning for this reconnected couple.
"I knew he was 'the one' because he was the only person I couldn't stop thinking about," she says. "We first met seven years ago, then lost touch for five years and reconnected two years ago and have been together ever since."
She continues, "Over these seven years, he's always been on my mind. He was my 'one that got away' until we had each other again. And it turns out, he always felt the same way about me all of these years. Ben is my best friend, the love of my life, and the one person I know will always be there for me no matter what."
Article continues below advertisement
"I hadn't been to Las Vegas since I was young - back when the arcades were the highlight of the trip! So it was fun to go with my fiancé for a fun weekend. We definitely loved hanging out by the pool. After a NYC winter, we are ready for some sunshine!"
And it was the perfect break before this busy weekend, when her comedy, American Reunion, hits theaters.
"I play Mia, Oz's L.A. socialite girlfriend, in American Reunion," she says. "The movie is great. The entire original cast is back, and there are many nostalgic throwbacks to the original American Pie movies.  The gang all goes back to their high school reunion and realize their bonds are still as strong as ever, even though they are all in such different places in their lives. It was such a fun movie to be a part of, and I can't wait for people to see it!"
Pick up the OK! on newsstands now for more about Katrina's bridal beauty in OK!'s Wedding Special. The cover line is "Jessica Simpson: My First Days As A Mom."  In addition to American Reunion, which opens Friday, watch for her other films, Piranha 3DD and Nurse 3D later this year.