COUPLES
A Same Sex Marriage On As The World Turns?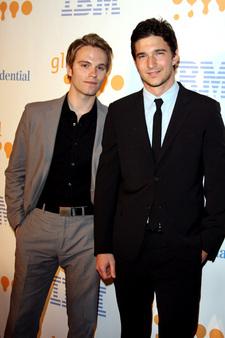 Could marriage be in the cards for daytime TV's hottest gay couple?
Well, maybe not right now – but it might not be too far away, according to As The World Turns Jake Silbermann and Van Hansis.
At the 20th annual GLAAD Media Awards in New York the gorgeous pair, who play Noah and Luke on the long running soap, talked to OK! about future nuptials.
"I think our characters are too young to get married," said Jake.
Article continues below advertisement
"Right now we're taking it slow. The characters are 20, you know?"
Adds Van, "And as awesome as it would be to tackle that story, once you get married then kids come along and then you have like a 38 year old grandmother on the show."
Hot grandma? Sounds like a spin-off to us!
But the couple – who, says the pair, are at the heart of the show when once they might have been used as pawns to play out a "hot topic" – could be around long enough to reach that milestone.
"These two characters who, ten years ago, may have been considered fringe characters or "social issue" characters have now become central to the story and two of the most popular characters on the show," said Hansis.
"The fan reaction to our story has been so powerful."
Well, we hope they get around to it soon. We love a wedding!
By Jacob Hentoff