COUPLES
ScarJo to LiLo: "Who Are You?"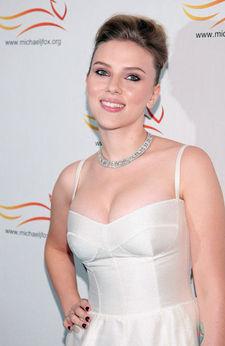 In the new issue of Allure Magazine, Scarlett Johansson speaks frankly about her supposed feud with Lindsay Lohan and her oh-so-quiet wedding to husband Ryan Reynolds.
CLICK HERE for OK!'s Ultimate Scarlett Johansson Gallery!
Of fighting with Lindsay, Scarlett says, "I really don't know that person. I only met her, like three times in my life," says the actress, 23, who incidentally lost the lead role in Parent Trap to Lohan when she was 13.
Article continues below advertisement
For those who don't remember, Lohan reportedly scrawled some obscenely descriptive words about Johansson on a NYC bathroom stall two-and-a-half years ago. Of that incident, Scarlett says, "That's what I heard. I don't know what the motivation was behind that. I remember it was something really vulgar--I mean, shockingly so, like 'Whoa, what, who are you?'"
Other than Lindsay, there are actually many Scarlett fans out there. One of them being, of course, acclaimed writer/director Woody Allen who continues to cast the blond bombshell in his movies (most recently Vicky, Cristina Barcelona).
Of being called Allen's muse, the actress says, "I'm just lucky to fit into the 'young woman' category in his movies. But make no mistake, I know that if it wasn't me, it would be someone else."
Another big fan is singer Katy Perry, who reportedly penned her hit song "I Kissed a Girl" with Johansson in mind.
"I had no idea about the song -- I should get a cut!" Scarlett says. "That's flattering, but my lips are kind of taken."
Article continues below advertisement
CLICK HERE for OK!'s Ultimate Scarlett Johansson Gallery!
Taken by none other than hottie Ryan Reynolds! The private couple, who began dating last year and tied the knot at Clayoquot Wilderness Resort near Vancouver, Canada, on Sept. 27, are reportedly now planning a reception for family and friends in the US.
When asked how she and Reynolds, 32, met, Scarlett stays mum: "Nobody knows. It's private. It's our story."
She is considerably more open about a new tattoo on her forearm--"It's kind of personal," she says. "It's a sunrise, and it makes me happy when I look at it."