COUPLES
'Married To Medicine' Star Dr. Simone Whitemore Announces Divorce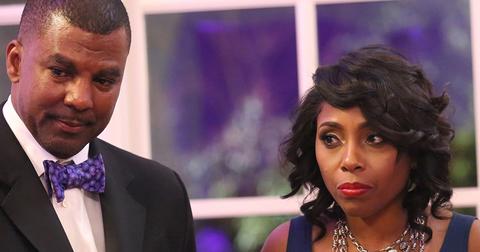 Jan. 25 2018, Published 7:46 p.m. ET
View all comments
A second Married to Married star has filed for divorce.
According to People, Dr. Simone Whitmore is divorcing her husband of 21 years, Cecil Whitmore.
The OBGYN, 50, made the shocking revelation while filming the season 5 Married to Medicine reunion (which airs in March) in New York on Thursday, just two months after her costar, Dr. Jackie Walters, announced her divorce.
Simone told the mag that she filed for divorce in October 2017, and has plans to have paperwork finalized when she returns to Atlanta.
Article continues below advertisement
"There is no if here, there are no games. I am not pretending. I am done, " she said. "I have reached a place where I am in a marriage where I do not feel loved and no sacrifices are being made for me to make me feel loved. I must move on."
Simone and Cecil, 51, were the longest married couple on Married to Medicine, and at one point the two were fans' favorite couple.
However, audiences were given a firsthand look at their crumbling marriage on the current season of Married to Medicine.
"We're in a place where we're arguing over basic sh*t," she said in a December episode. "He's just so hostile and angry about every little thing. When somebody is being mean, it's hard to replace that with something nice or smile. It's difficult."
While the divorce marks the conclusion of one chapter in her life, Simone told People she's optimistic about her future.
"As a successful woman who truly loves herself, I will continue to make sure that I am empowering myself," she explained. "Divorce is nothing that anyone should be feeling sorry for me, because I am looking forward to a new chapter, a new life, a new beginning. Life has so much to offer me. I have always been a go-getter and I am going to continue to be a go-getter and to strive for the very best that life has to offer."
Married to Medicine airs Fridays (9 p.m. ET/PT) on Bravo.