COUPLES
Source: George Clooney Engaged!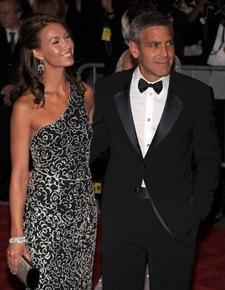 Even though George Clooney has famously stated that he would never marry again, following the dissolution of his 4-year marriage to actress Talia Balsam, sources close to the actor reveal to OK! that he has finally popped the question to girlfriend, model Sarah Larson!
The source says that the Oscar-winner proposed to his gal-pal some time around his May 6 birthday. Which would be the perfect day for the couple, seeing how they first met, but didn't start dating, on his birthday several years ago. Sarah, then a waitress at L.A.'s Whiskey Bar, tended to Clooney and his pals. Though there was a connection, she had a boyfriend at the time so nothing happened.
Article continues below advertisement
Fast-forward to June 2007, when George visited Las Vegas for the premiere of Ocean's 13 and looked up Sarah, who was then working at Moon nightclub.
Talking about his bachelor behavior, the actor/director once said, "I'm so selfish... I've settled into a very comfortable lifestyle and I really don't want to change things. I've learnt enough about myself to know that my work is the main thing which drives me and whatever woman comes into my life is going to have deal with that, which isn't easy."