COUPLES
Speidi: "Married Forever and Ever and Ever!"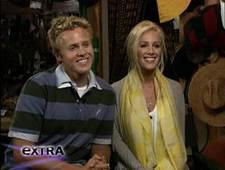 Spencer Pratt and Heidi Montag haven't let anything dampen their spirits since they tied the knot on April 25, and they're still happy to talk about their big day.
"I was just sitting there in my dress like, 'I am really about to marry the most amazing man and this is such a great experience," Heidi tells Extra, as Spencer adds that married life is "amazing."
Not so amazing? Being afraid that Heidi's dad would punch him.
Article continues below advertisement
"I was still nervous her dad was going to punch me in the face right when he got there," Spencer says, as Heidi's family aren't really his biggest fans.
It's official though, so no going back now – Heidi's no longer a Montag.
"I legally changed my name to Pratt," she reveals. "I'm very excited."
And that whole swine flu thing going on in Mexico where they just filmed Heidi's new music video? Just a little scary.
"We were masked up. I was scared," Heidi admits.
Spencer agreed. "I didn't even want to take my mask off. I have enough to worry about in Hollywood than the swine flu."
The couple will have many more chances to discuss their life together, as Heidi promises they'll be together for a long time to come.
"It's real love and we will be married forever and ever and ever!" she predicts.
PICS FROM SPEIDI'S BIG DAY: