COUPLES
Speidi Wedding Symbolic, Not Legal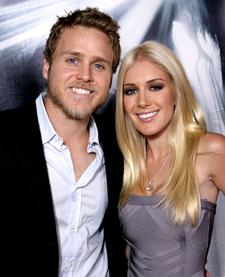 US Weekly may have put Heidi Montag and Spencer Pratt on the cover of its magazine with the headline "Heidi & Spencer Elope!", but it looks like the magazine once again failed to include a not-so-exciting but very important detail: It wasn't legally binding!
The mag, which features a story detailing an interview with Montag and Pratt, as well as details about the rings, Montag's dress, and the content of their handwritten vows, apparantly didn't think it important to note that the notoriously fame-hungry couple had neither obtained a marriage license nor taken part in a separate civil ceremony, which is required by Mexican law to make the union binding.
Article continues below advertisement
On Wednesday, Heidi and Spencer admitted that their wedding ceremony near Cabo San Lucas, Mexico, was in-fact symbolic, not legal. In a statement, the couple said:
"We had a beautiful ceremony here...officiated by a minister and photographed by the hotel photographer. We've never been happier. And, like other elopements that happen outside the country, we'll take care of the legal details when we get home."
The couple did not specify when they would make their marriage legal in the States, which would likely require a separate ceremony in the US.
They did, however, manage to pull together a full photo spread for the press showing their nuptials at a chapel on Nov. 20 and ironically, MTV just happened to be in town to shoot it all for season 5 of The Hills.
The Hills executive producer Liz Gately said, ''Fans will be able to see the exclusive footage from the ceremony in an upcoming episode, and we will continue to follow the newlyweds' relationship as it plays out in real life.''