COUPLES
Tish Cyrus Says Liam Hemsworth is the "Love of Miley's Life"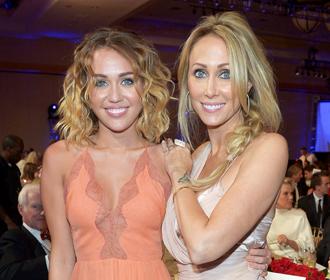 Everyone is thrilled for newly engaged couple Miley Cyrus and Liam Hemsworth, but no one seems be more excited than Miley's parents Billy Ray and Tish.
The couple Tweeted special messages about their daughter's engagement, proving they're more than happy that Liam will be joining the Cyrus family.
OK! GALLERY: MILEY CYRUS FLASHES HER ENGAGEMENT RING AT LAX
Today, Tish Tweeted, "Wow! All of the love pouring out for Miley and Liam is incredible! So happy for my precious baby girl and the love of her life!"
Article continues below advertisement
And yesterday, Billy Ray wrote, "All I ever hoped for as a Daddy was to see my kids reach their dreams. To find happiness...peace of mind ...and someday know... true love."
There's no doubt that the Cyruses love Liam and are positive that Miley is making the right choice, even if she is only 19.
OK! NEWS: WHAT DOES CHRIS HEMSWORTH THINK ABOUT LIAM MARRYING MILEY CYRUS?
"The whole family loves him," a source tells OK!. "They know Miley's no angel, but she's much calmer with him in her life."
"Everyone has been so positive," Miley Tweeted today, "all this energy is amazing ❤."