COUPLES
Video: Natasha Bedingfield Gets Wedding-Ready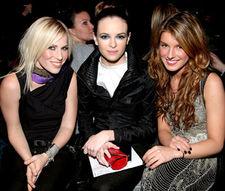 Natasha Bedingfield confesses she's committed to looking good for her upcoming nuptials to businessman Matt Robinson during the G-Star Raw luxury jeans fashion show held Tuesday at NYC's Hammerstein Ballroom.
"I'm working out every day or so," the Pocketful of Sunshine singer, 27, tells me. "I just want to be the most fit I've ever been for my wedding."
See OK!'s exclusive video! It's your passport to the party…
Article continues below advertisement
What's her plan?
"You've basically got to increase the amount of working out you do, and decrease the amount of food you eat. If you do that, you'll lose weight. You don't want to not eat anything though."
Any wedding details she can share?
"It's very exciting. You know, it's hard to plan when you're a busy, working woman, but I'm very excited. It's going to be a small family wedding. Secret location, secret time, secret day."
Has she set a date? "Maybe," she coyly says.
Natasha is super in-love with her fiancé, and dishes on their Valentine's Day. "It was so lovely," she tells me. "We watched movies, we had wine and cheese and we just stayed in with candles and stuff."
Getting wedding-ready is top of mind for Natasha, and she is all about pampering.
"I love having a long bath and a massage," she tells me. "It's easier to pamper yourself, but hard to find the time."
Article continues below advertisement
While Mischa Barton puts starvation rumors to rest during the event, the O.C. darling isn't the only one with weighty issues on her mind.
Giddy 90210 star Shenae Grimes has also attracted attention for her slight physique, causing anorexia rumors to swirl. Is size zero a healthy goal?
"It depends on your shape, it depends how you're born," the perky 19-year-old says. "For some people it is, and for some people it's not. I think as long as you're healthy and you work with your bone structure, it's all good."
How does Shenae deal with the pressure to be thin?
"I don't think there is much anymore, fortunately," the pin-thin starlet tells me.
For Shenae, what impresses her most about 90210's original cast is Tori Spelling's approachability.
"I love her!" she gushes. "She is so-o adorable, and so funny. I watched the show, Tori and Dean: Inn Love, and I'm such a fan. I was really excited to meet her. She's so normal and so sweet and kind. She started conversations with everybody, which was great for someone the first day on set. She wasn't shy at all."
Article continues below advertisement
Will all three originals – Jennie Garth, Shannen Doherty and Tori – share a scene?
"I'm not sure," she admits. "There absolutely should be – why not? But I'm not sure. I'm not sure when Shannen is coming back."
Here is Alexandra Richards, who is too shy to go on camera.
What's the best advice her Rolling Stones rocker dad Keith has given her?
"Be happy," she tells me. "Live life with no regrets. Be happy and stay strong."
It's showtime! Benicio Del Toro caps off the jean show with a monologue. Hmm. That's different.
Video production by Chris Morran.