SHOPPING
The Daily Checkout: The Hydrating Eye Patches Our E-Commerce Editor Calls 'A Life Changer' — Shop Now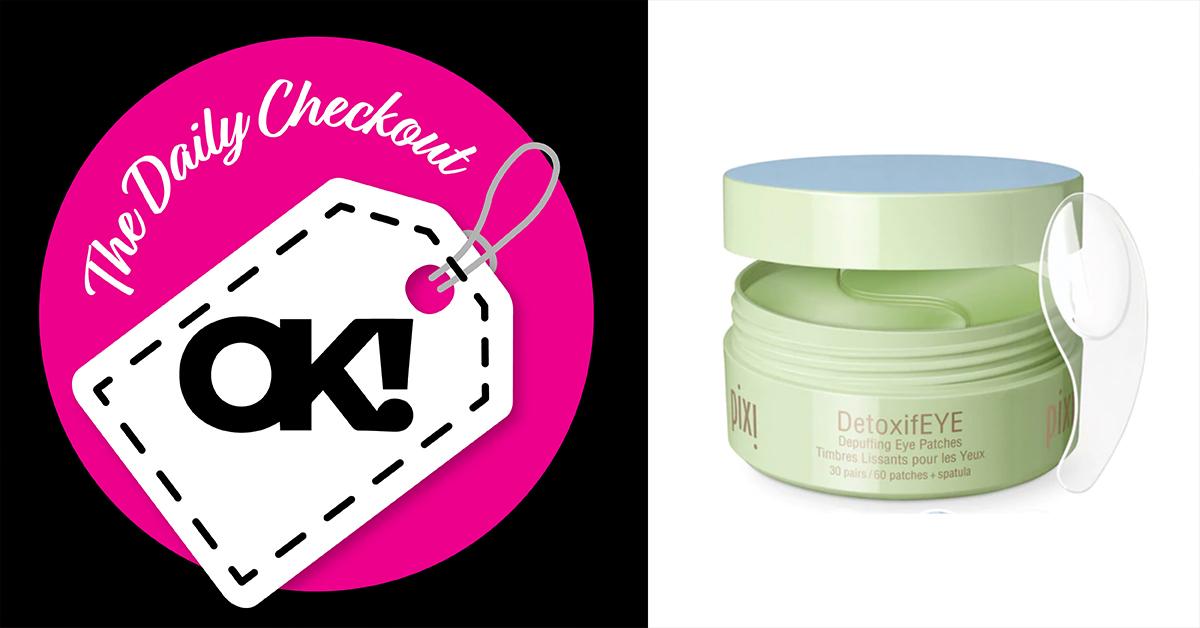 All products featured on OK! Magazine are independently selected by our editors. However, when you buy something through our retail links, OK! Magazine may earn an affiliate commission.
Welcome to The Daily Checkout, a new, daily series where our editors share their favorite beauty and fashion products. From tried-and-true makeup staples to newly-tested items we already adore, we'll be breaking down what we love and why — for the sake of beauty itself.
If you've ever grappled with finding reasonably-priced skincare products that actually work, you're not alone. Even with her expertise in all things beauty and skincare as one of OK!'s E-Commerce Editors, Rebecca Friedman spent "literally two years if not more" in pursuit of an affordable eye cream that could moisturize and de-puff her skin. "I have been searching forever to find a sufficient eye cream to add into my skincare routine," she shares.
At first, Rebecca used some of her mother's Clinique products with seemingly decent results; however, it seems mom was less-than-enthused with her dwindling skincare supplies. "She told me they were expensive and to find my own," Rebecca comically recalls.
Left high-and-dry by luxury creams, Rebecca started searching for something more affordable.
"I used the INKIE List eye cream for a while but it just left my under eyes super dry which basically did the opposite effect of what I was hoping," she explains. Other affordable staples weren't much better. "I tried a few other drugstore eye creams along the way but never saw the results I had in mind."
Amid the trials and tribulations of finding an eye cream that actually worked for her, Rebecca says her skin remained a sore spot, seemingly impacting her confidence. "My under eyes always made me self-conscious," she reveals. "I would always be jealous of influencers and celebrities' bright bag-less under eyes!"
Enter TikTok. While scrolling through her For You Page one day roughly two months ago, Rebecca came across a video from beauty influencer Darcy McQueen highlighting Pixi Beauty's DetoxifEYE Depuffing Eye Patches.
"I have tried a few other recommendations from her so I figured I would try this one out as well," she remembers.
And this product was no exception. "It was a life changer," she insists.
Beyond the patches' very reasonable price point — a pack of 30 pairs will set you back just $24 — Rebecca credits their cooling and moisturizing properties with their staple-status in her beauty regimen.
"I put them on at the end of my skincare routine just before I moisturize," she explains. "The patches have a chilling effect (and even better if stored in a refrigerator) that soothe your under-eyes and almost immediately decrease puffing. They are also super moisturizing so I no longer have the problem of dry flaky patches that other products have left me with."
Beyond leaving her eyes feeling firm and hydrated, Rebecca says she noticed another desirable side effect from these eye patches — making her feel her best: "As a person who is absolutely not a morning person, they really help lift my spirits every morning."
​​Keep scrolling to shop this OK! skincare must-have for yourself — you can thank us later!
Article continues below advertisement