NEWS
COVER STORY: Kim Kardashian's $10 Million Wedding!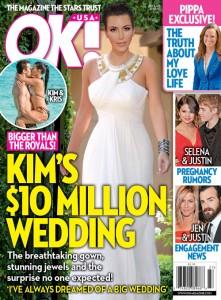 Kim Kardashian has made no secret that when she walks down the aisle with Kris Humphries this summer, it will be the party of the century. "I've always dreamed of a big wedding," the star has said. But with planning for her nuptials well underway, that's turning out to be an understatement. Insiders say Kim's wedding will cost a cool $10 million! We've got all the details in this week's issue of OK! — on sale everywhere Thursday!
Article continues below advertisement
"Kim goes big," admits sister Khloe Kardashian Odom. "I joke, and I say it will be like the royal wedding because she is just like that."
OK! GALLERY: KIM KARDASHIAN SHOPS AT LUXURIOUS LINGERIE HOUSE
But some pals say the day could be that amazing."It's actually not that much of a joke," says a friend. "Kim is seriously determined to have a royal-type extravaganza."
"Money is no object when it comes to walking down the aisle," adds a longtime pal of the star.
OK! VIDEO: KENDALL JENNER FIGHTS WITH KIM KARDASHIAN — "SHE'S TAKING HER RUNWAY FANTASY OUT ON ME!"
FOR ALL THE DETAILS, PICK UP THE NEW ISSUE OF OK! — ON SALE EVERYWHERE THURSDAY!
ALSO IN THE NEW OK!:
Jennifer Aniston: Her new romance with Justin Theroux is heating up, and now the pair has gone public with their love! Find out how America's sweetheart is taking her relationship to the next level.
Mob Wives Exclusive: She's the rough, tough fighter of the group, but Mob Wife Drita D'avanzo has to deal with a huge hole in her life: the absence of her husband, Lee D'avanzo, who has been in prison for more than two years. Find out how Drita is coping with being away from her love, and what Lee really thinks of her fellow Mob Wives.
Article continues below advertisement
Justin Bieber and Selena Gomez: The teen pop sensations have been enjoying a very public relationship — complete with lots and lots of hot-and-heavy PDA. But after a recent health scare, fans are abuzz with rumors of a baby Bieb. Read the truth about the gossip.
OK! NEWS: SEE JUSTIN BIEBER CHECK OUT SELENA GOMEZ'S CURVES AT MUCH MUSIC VIDEO AWARDS
Teen Mom Update: Following her recent suicide attempt and hospital stay, Amber Portwood is ready to turn her life around. With a therapy program and life coach, the troubled Teen Mom may be getting just the help that she needs — but is her baby daddy Gary Shirley also on board as support?
Pippa Middleton: After she stole the show at the royal wedding of Prince William and sister Duchess Kate, Pippa's love life has been under a microscope. But the British beauty has managed to keep a big love secret — until now! OK! has the scoop!
Plus: Katie Holmes and Suri Cruise enjoy a day at the beach; Ashlee Simpson moves on from her divorce with Pete Wentz with a new man. Britney Spears turns heads with a brand new body. Do Ashley Greene, Taylor Swift and Rihanna look better with curly or straight hair? Megan Fox and Brian Austin Green return to the site of their wedding. And more!