NEWS
See Justin Bieber Check Out Selena Gomez's Curves at Much Music Video Awards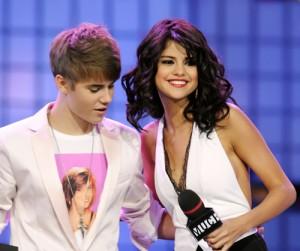 Justin Bieber didn't want his girlfriend Selena Gomez to have a wardrobe malfunction on stage at the Much Music Video Awards last night — so he was sure to keep his eyes on her at all times. The teen dream couple were united on stage when JB went up to accept an award from Selena, the show's co-host. And he was certainly distracted by his leading lady's curves — accentuated in hot pants and a low cut top!
Article continues below advertisement
The 17-year-old singing sensation took the stage in T-shirt with Tiffani Thiessen's Saved By the Bell character Kelly Kapowski on it, but he only had eyes for Selena.
The Biebs was photographed staring right at his lady's cleavage in her revealing top with black lace details.
He was as smooth as ever when he greeted Selena, quipping to the 18-year-old starlet — "Nice to meet you. You're very beautiful. Maybe we can go out sometime."
Justin won two awards during last night's ceremony — the International Video Of The year By A Canadian for "Somebody To Love," featuring Usher, and the UR FAVE New Artist for "Somebody to Love (remix)."