NEWS
Jennifer Garner: A Master of Motherhood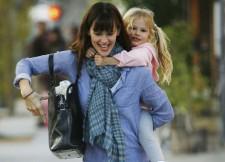 Jennifer Garner could easily be named supermom of the year. While continuing to working on films like Valentine's Day, Jen takes care of four-year-old daughter Violet and soon-to-be one-year-old Seraphina with some help, of course, from hubby Ben Affleck. In an interview with W magazine, Jennifer dished on how she manages motherhood!
Jennifer, Ben and their two adorable daughters have been living the past seven months in Cambridge, Mass. while Ben filmed back-to-back movies in Boston.
Article continues below advertisement
Though Jennifer and the girls did go to L.A. for a couple weeks while she shot the romantic comedy Valentine's Day, due out in theaters February, Jen's schedule is focused on motherhood.
"Getting the kids up and fed, getting one to school, getting the other down for a nap, going to the grocery store, picking one up from school, getting the other one down for another nap, cooking dinner," Jen says of her daily routine. "I live my life at these two extremes. I'm either a full-time stay-at-home mom or a full-time actress."
Motherhood seemed to come very naturally for Jen.
She calls breast-feeding "the coziest feeling in the whole world" and has bonded with the other moms at Violet's school. "You feel so close to them so quickly because you're going through the same thing," she says. And then there's the homemade baby food. "It's a little over the top," she admits. "And I tell myself, Just give her a jar of food and forget about it! Don't be so precious! But it's so easy — I just puree and freeze."
Article continues below advertisement
Former Alias co-star and current Valentine's Day co-star Bradley Cooper said Jennifer was a mothering type even before she had her daughters.
"She was one of the first people I met when I stepped onto Los Angeles soil," he recalled. "And she was very maternal, even then. She wanted to take care of me, make sure I was okay all the time. The first time I saw her, I was in the production office when we were shooting the pilot, and this girl comes in, glowing. She had just baked cookies, which she was offering to me, and I was like, That is who's playing Sydney Bristow?"
Jen may have the natural nurturing skills, but that doesn't means she doesn't need some help from time to time.
"Does that sound snotty, to say I have help?" she asked.
Not when mom is an actress and has to relocate for months at a time for her job!
But, relocating may be getting harder now that her daughters are getting older and are in school.
"We thought we could take them anywhere until they were six," Jen said. "But I don't know if that's going to work out that way."
Article continues below advertisement
"It's hard because I've taken so much time off already," she added. "But I have this internal battle between, I need to work, I need to work, I need to work and I need to be home with my kids. And the kids win."
Adjusting to motherhood was easy for Jennifer, but being married to another celebrity and keeping things between them private is more challenging.
"Ben asks me, 'How come when I do an interview I manage to keep you out of it completely?'" she says. "And I'm like, 'Either because you don't think about me or because boy magazines don't care about what I make you for dinner. But they should!'"
Though Jen and Ben worked on Daredevil and Elektra together, Jen doesn't plan on working with Ben again.
"I think he's brilliant at what he does, but why rock the boat?" she said. "It works between us pretty well the way it is. I don't know if I want to go to work with him. I'd be like, 'Okay already, you got the shot. Let's go home!'"
And home is where Jen is happiest!
"I miss my girlfriends!" she said. "That's the hardest thing about being on location when it's not for your own project. When it's for you, you're on set with everybody you know, but if not, it's lonely."
"I can live with Ben working crazy hours. But I can't live without girlfriends around to talk about men with!" she said with a laugh. "It's fine if he's not there; I just need someone to bitch about it to!"