Archive
OK! Exclusive: Kris Jenner Shares Recipe For Thanksgiving Leftovers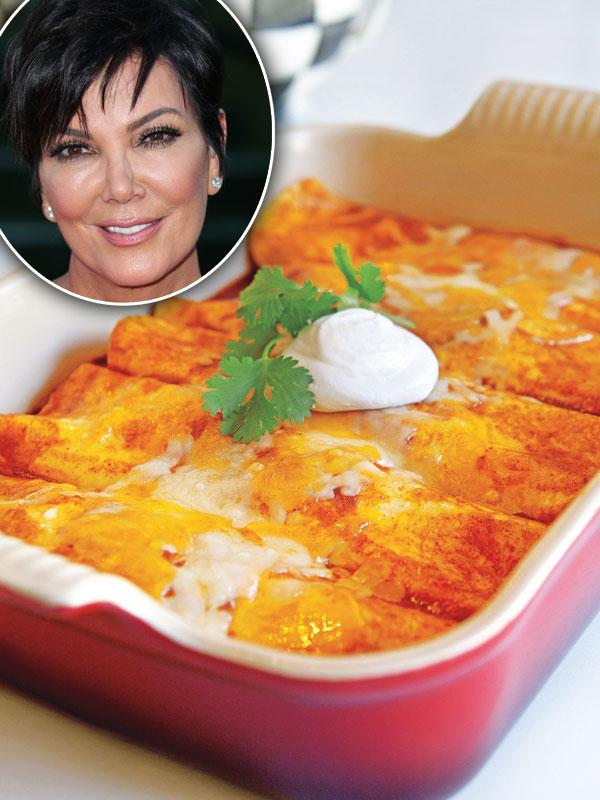 Article continues below advertisement
For more Kardashian-Jenner meal ideas, check out Kris' new cookbook, In the Kitchen with Kris!
PHOTOS: MILF Alert! Kris Jenner's Hottest Momager Moments Ever!
SERVES: 6
TOTAL TIME:50 min.
INGREDIENTS
2 tbsp. unsalted butter
1 medium yellow onion, chopped
3 cups leftover cooked turkey, shredded and coarsely chopped
1 cup shredded sharp cheddar cheese
1 cup shredded jalapeño jack cheese
1 (19-oz.) can enchilada sauce
6 (6-inch, fajita-size)flour tortillas
3/4 cup sour cream, at room temperature
Cilantro, chopped, for garnish
PHOTOS: Kris Jenner Photoshops Herself To Look Younger: Plus Other Times Kardashians Have Altered Pictures!
DIRECTIONS
Preheat oven to 350°F.
Melt butter in skillet over medium heat; add onion and cook, stirring occasionally, until translucent, about 5 minutes.
Transfer onion to bowl and let cool; mix in turkey, 1/2 cup cheddar cheese,1/2 cup jalapeño jack cheese and 1/4cup enchilada sauce.
Spread 1/2 cup enchilada sauce across bottom of 9-by-13-inch baking dish.
To assemble: Pour remaining enchilada sauce into pie plate. Place 1 tortilla in sauce, add about1/2 cup turkey mixture to center of tortilla and roll.
Place rolled enchilada seam side down in prepared baking dish; repeat with remaining tortillas and filling.
Pour remaining sauce over enchiladas; sprinkle with cheddar and jack cheeses.
Bake until sauce is bubbling and cheese is melted, about 20 minutes; let stand 5 minutes. Serve hot, topped with dollop of sour cream and sprinkle of cilantro.