HEALTH
Rihanna, Christina Aguilera And More Get Real About Their Weight Ups And Downs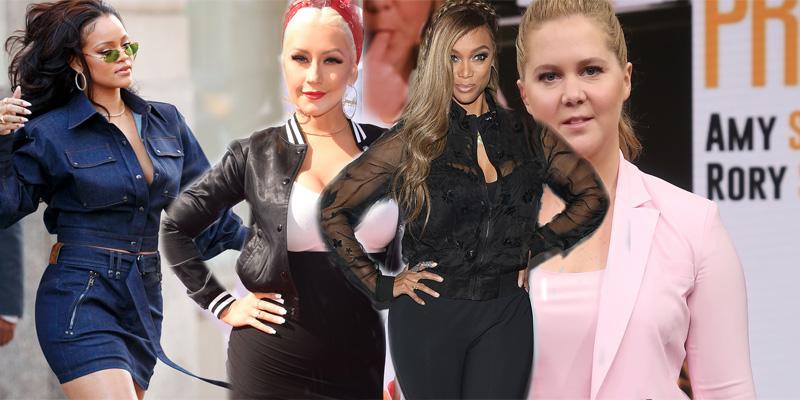 Women are constantly scrutinized over their appearance, and no one has it worse than celebrities, as they are in the public eye and expected to be as close to perfect as possible. From Tyra Banks to Amy Schumer, these A-listers have had it rough when it comes to criticism due to weight ups and downs.
Tyra has had her fair share of weight fluctuations, and no one can ever forget when she told everyone to kiss her "fat a**" in 2007 on national television after people were buzzing over her weight gain. She put on weight since retiring from modeling in 2005, but isn't that part of the fun of retirement? These days, she looks just as phenomenal as she did at the start of her career, and says she loves her current body.
Article continues below advertisement
Rihanna was fat shamed online last year, although she had plenty of fans who were and still are in love with her weight gain. It looks amazing on her! And she hasn't let it impact her confidence. Just take a look at her latest Instagram photos. "I have the pleasure of a fluctuating body type," she says.
Christina Aguilera, 37, stepped onto the scene as skinny teenager, so of course after having two kids and going through a tough divorce, her weight is going to be impacted. But that didn't stop people from judging her and mocking her when she put on weight. And Christina said it took her a long time to love herself. "I've been through the gamut of all things in this business. Being too thin. Being bigger. It's noise I block out automatically. I love that now I have a booty, and obviously I love my cleavage." Go girl!
Amy often makes jokes about her weight, but some criticism she's gotten isn't funny at all. She recalled that in 2015, she was told to lose weight before filming Trainwreck, and though she complied, she wasn't happy. As she said, "I look very stupid skinny." And she's happier with curves!
For more on other celebs' weight ups and downs, pick up the latest issue of OK! magazine.