STYLE
Travis London's Healthy Chic Eat of the Week!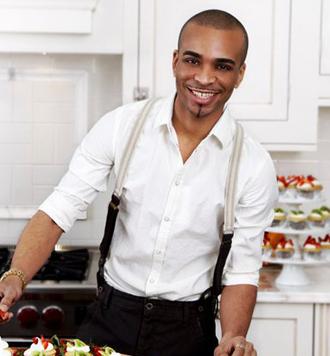 Article continues below advertisement
Healthfully Thai Curried Butternut Squash and Apple Soup
(Serves 4)
1 medium organic butternut squash, cut in half lengthwise, seeds and center removed
1 small onion, chopped
2 teaspoons curry powder
1 teaspoon ground cinnamon
1 cup water
3 cups vegetable broth (or chicken)
1 organic apple peeled, cored, and chopped
1 cup organic Greek style yogurt (low or nonfat)
1 sprig coriander
1 organic red pepper, chopped into small dice
Canola oil
Kosher salt and pepper to taste
TRAVIS LONDON'S HEALTHY CHIC EAT OF THE WEEK — HONEY-ROASTED PUMPKIN AND ARUGULA SALAD
Directions:
Preheat an oven to 425F and line a rimmed baking sheet with foil and lightly oil. Place cut squash, flesh sidedown, on prepared baking sheet and roast for 35 to 45 minutes or until squash is easily punctured with a knife. Remove and let cool. Onced cooled, scrap the insides into a bowl and discard the rest. Heat oil in a stockpot over medium heat. Add onion and cook until translucent (about 5 minutes). Stir in currypowder and cinnamon and continue to cook for 2 minutes. Add water, broth, squash and apple and cook for 10 minutes. Remove from heat and allow to cool for 10 to 15 minutes. In a blender, working in batches, puree the soup until it is smooth. Pour the soup back into the pot and bring to a boil over medium-heat and season to taste with salt and pepper. You can add more water to make the soup the consistency you like.
Chic Tip: For a great presentation when serving, portion evenly into four bowls. Top each with a teaspoon of Greek yogurt, diced red peppers and one coriander leaf.
Healthy Fact: Just a teaspoon of curry powder has been shown to protect liver from alcohol damage, lower blood sugar and provide superior anti-oxidant protection.
For more tips and recipes from Travis visit HealthyChicEats.com and sign up for his free daily newsletter. You can also like Travis on Facebook at Facebook.com/TLTravisLondon and follow him on Twitter twitter.com/TLTravisLondon.