NEWS
Ali Larter Exclusively Opens Up To OK! On Pregnancy, Legends and Her Work With DOLE Soups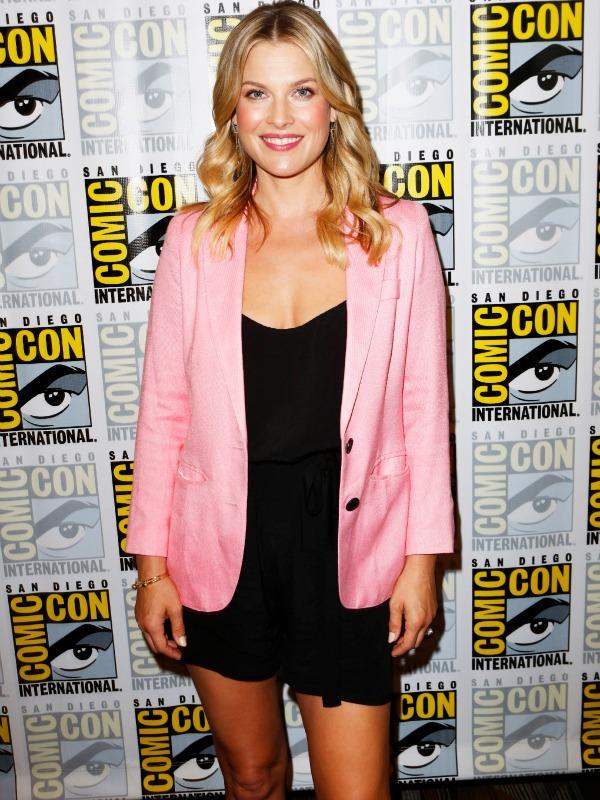 Ali Larter is just as impressive as her on-screen Legends character. From raising her son and preparing to welcome baby No. 2, to filming and cooking up recipes for her website, is there anything Larter can't do? Ok! caught up with the actress to talk her pregnancy, TNT show and why she's helping promote DOLE soups.
OK!: You're pregnant with your second child. How is it being pregnant a second time around?
Article continues below advertisement
Ali Larter: It's interesting. I haven't stopped working yet, but I feel really good now. When you're in your second trimester you feel so much better so that's great. The nausea is over and now I'm not as starving as I was in the beginning. It was literally like a pack of wolves chasing down dinner everyday! So now I'm a little more in control, but I've just been enjoying it.
OK!: What are you looking forward to most when welcoming your new child? And is your son, Theodore, excited to be a big brother?
Ali Larter: We're just really excited to grow our family. He is, he has been amazing. I am all about this four-year age split between the two because he really understands and we're able to make it really special for him. And he feels that he's excited to be able to guide the way and be a really good big brother and so that's what we're thrilled about.
OK!: Why have you teamed up with DOLE Soups?
Ali Larter: I've decided to team up with DOLE to launch the new Garden Soups, and especially because I have a growing family right now. It's nice to have something that's a quick, ready-to-serve-meal that has no preservatives, is non-GMO, and that's a healthy, delicious snack or meal for you and your family.
Article continues below advertisement
OK! News: Ali Larter Has a Killer Bod—Get the Deets on Her Workout Method of Choice and How She Lost the Baby Weight!
OK!: Why should our readers try DOLE soups?
Ali Larter: It's really easy and it's accessible… It's great to be able to have good choices ready to serve so you don't have to spend all day in the kitchen.
OK!: What makes your cookbook, Kitchen Revelry, different from others?
Ali Larter: I plan mine out by the menus of each month. When I decided to create it, I felt like a saw a lot of cookbooks where everything was either too perfect, the recipes were unapproachable, and then I had to spend so much time putting menus together. So that's how I laid it out. If you flip to October right now you'd have my harvest party, which is like short ribs and cauliflower purees and kale salads, or a football party, which is turkey chili and corn bread. It's all recipes that I love that are simple, delicious and super flavorful.
OK!: You star in the new TNT drama, Legends. What interested you about the script and character you play?
Ali Larter: I was really drawn to the project because of Howard Gordon who comes from the world of 24 and Homeland. It's also based on the book Legends from Robert Littell, so whenever you have that kind of blueprint, that's always a great feeling when you're starting on a project. And when Sean Bean signed on, he's just the next level of actors. Every week to watch him is just so thrilling, so to be able to kind of play ball with him has been really exciting. I love playing strong, independent woman so for me that's what's been really exciting. I hope that next season we get to take these characters home a little bit and see where they crack a little bit more.
Article continues below advertisement
PHOTOS: Ali Larter & Baby Teddy Head to Mommy & Me Classes in Brentwood!
OK!: Do you have any updates on next season?
Ali Larter: We're still waiting to hear. This season was really about the who am I? Sean has different legends that he goes under on each week. These characters that he's created and kept alive over the last thirty years. The question is whether he is a legend himself, who is Martin Odum? Was he made up by the government? Is he this big conspiracy? So we all kind of come together to kind of answer those bigger questions.
OK!: Anything else you would like to add?
Ali Larter: You're Not You is coming out October 10th. That's a movie I did with Hilary Swank and I'm really excited about that. Emmy Rossum was really great in it and Josh Duhamel. And then my website, AliLarter.com, has all my recipes for free that people can go on and grab that are just really flavorful and simple. Then I'm going to slow down. I've got one more month left of work and then I'm going to retire!