NEWS
10 Hollywood Couples Still Going Strong After 10 Years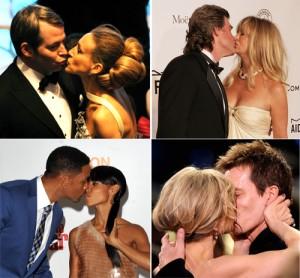 While Jennifer Aniston may be trying to rekindle her romance with Brad Pitt on the 10th anniversary of their wedding, OK! has decided to pay homage to 10 golden Hollywood couples whose relationships have lasted 10 plus years in the spotlight. These partners in crime are certainly a unique group for enduring the public scrutiny surrounding their romantic lives. Check out 10 A-list couples that have broken down the stereotype that love doesn't last in Tinseltown!
Article continues below advertisement
Hollywood relationships seem to vacillate between the good, the bad and the ugly, but some duos just know how to hack it.
Five years after their separation, there is still hope for a reunion between once golden couple, Jen and Brad!
OK! GALLERY: GET IT TOGETHER — SHOULD THESE COUPLES REUNITE?
Although Jen relinquished her share in the former couple's production company, Plan B, after the divorce, Brad still wants to work with his ex-wife.
IN THIS ISSUE: WATCH OUT, JEN! HOW ANGIE GOT FIT TO KICK BUTT!
Brad even offered Jen the role of Minnesota investigative reporter Linda Trest in an upcoming project he has in development with Paramount Studios — even though his current partner, Angelina Jolie, once expressed interest in the part.
"Brad thinks it will give Jen a chance to highlight her little-used dramatic acting chops," a source tells OK! exclusively.