NEWS
100 Ways To Burn 100 Calories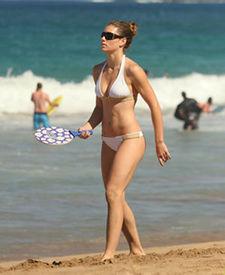 Stop dreading your workout. Burning calories can be fun!
1 Hula-hoop Pick up a fun hoop at Toys R Us and get busy for 20 minutes. British pop star Lily Allen's a fan.
2 Jump rope Is that more your style? Do it for 10 minutes to get a great warm-up.
3 Jumping jacks There's a reason why these were a gym-class staple. Try doing 780
of them.
4 Smooch "I love kissing," says Anne Hathaway. Grab your sweetie and make out
Article continues below advertisement
for 80 minutes.
5 Tread water Hang out in the deep end of the pool for 25 minutes.
6 Swim Fifteen minutes of leisurely laps will do the trick. Ashton Kutcher loves the
refreshing sport .
7 Hopscotch After 17 minutes, you've had fun with the kids and burned 100 calories.
8 Iron chef Take your time preparing meals. Chop vegetables and slave over the stove for 35 minutes.
9 Bite-size Chew your meal for 60 minutes.
10 Twister It's not just for kids! Challenge your friends for 20 minutes of twisting, turning and falling. You're sure to get a few laughs, too.
11 Row, row, row your... Hop on the rowing machine for 13 minutes. Great for toning your shoulders and back.
12 Canoe Pick up a paddle and go out on the water for 15 minutes.
13 Kayak While you're on vacation, rent a kayak for 20 minutes.
14 Surf's up If you want a surfer bod like Jessica Biel's (she says she loves to surf) hit the waves for 30 minutes.
Article continues below advertisement
15 No board, no problem! You get the same effect bodysurfing.
16 Sing Whether you're on a road trip or humming along with Joey Fatone on The Singing Bee, try to belt it out for 50 minutes.
17 Fill'er up When on the road, always go for self-service. Fill up six times.
18 Pucker up Keep your lips looking sultry all night. Apply lip gloss 90 times.
19 Stand up Giving up your seat for an elderly person on the bus isn't just courteous, it's healthy! Sitting burns 100 calories in 100 minutes, but standing does it in just 80.
20 Lather up Standing in the shower for 45 minutes may make your hands pruney, but it also burns calories.
21 Clean pup Does your dog need a scrub-down too? Bathe him for 25 minutes.
22 Go fetch Once your scruffy friend is nice and clean, treat him to a fun game of fetch for 20 minutes.
23 Walk it out Drew Barrymore loves to take her dogs on long walks. It takes 30 minutes to burn 100 calories.
24 Speed it up All you need is 15 minutes of brisk walking.
Article continues below advertisement
25 Go in reverse Walk backward and you only have to do it for 13 minutes. But make sure someone is guiding you!
26 Strike! Take your family out for 30 minutes of bowling. You may not score big, but you'll melt calories.
27 Volleyball There's a reason professional players are ripped. Just 12 minutes of beach volleyball does the trick.
28 Cartwheel Do celebratory cartwheels for 10 minutes.
29 Kickbox Whether it's with a DVD or in a class, kick butt for
10 minutes.
30 Punching bag Let out extra aggression by wailing away for 15 minutes.
31 Kick Do some front and back kicks for about 10 minutes.
32 Hit the mall Don't feel guilty! Shop for 40 minutes and you'll get more than just new duds.
33 Try it on Just 30 minutes in a dressing room with fluorescent lights and you'll break a sweat.
34 Extra baggage Don't let anyone help you pack the car. Carry your own bags (10 pounds worth) for 10 minutes.
Article continues below advertisement
35 Take the stairs Ditch the escalators. Get 20 combined minutes of going up and down stairs into your daily routine.
36 Crutches Got a broken leg? Don't worry: You're burning 100 calories for every 20 minutes you have to walk on crutches.
37 Bubble gum Enjoy chewing gum, like Britney Spears? Chomp on a sugar-free stick for 55 minutes.
38 Monopoly, anyone? Play some friendly board games for an hour.
39 Taking bets Use the Monopoly money for a game of cards. Just 13 hands is all it takes.
40 Generation Xbox Play video games for an hour and you'll look cool while you burn calories.
41 Clean up Only 20 minutes of scrubbing and you're on your way to a better bod and a cleaner house!
42 Vacuum Just 20 minutes.
43 Dirty dishes? Give the dishwasher a night off and wash 'em by hand for 40 minutes.
44 Wrinkle-free Iron for 20 minutes. (Carrying the ironing board and putting it away: added bonus!)
Article continues below advertisement
45 Ms. Fix-it Sit in front of the TV for an hour with your sewing kit and you'll do more than just save money on tailoring.
46 Mow the lawn Stop sending your hubby out to cut the grass. 20 minutes worth (not using the ride-on ones, people!) will burn 100 calories.
47 Bag the grass Once it's all cut, clean up the mess you made for 20 minutes.
48 Tee up Take a cue from Heather Locklear and spend an afternoon golfing. You'll be burning 100 calories every 20 minutes.
49 Belly dancing Busting a move for just 20 minutes will get you in the groove and make you feel extra sexy.
50 Grab a partner Ballroom dancing for 30 minutes is just as good. Once you get your sweetie on the dance floor, calories will be the last thing on your mind.
51 Two-step Line dancing for 20 minutes or two-stepping to
Shania Twain is all you need.
52 Take it slow If you're scared of making a fool of yourself, good old slow dancing for 30 minutes is fine. Bryan Adams lives on.
Article continues below advertisement
53 Gardening Plant three of your favorite flowers. You'll feel the burn from the raking and digging. "I love gardening," admits Charlize Theron.
54 Strike a pose Try 40 minutes of yoga. Downward dogs and plank
positions will sculpt your whole body.
55 Break a sweat Hit the sauna after your workout. Just 10 minutes will have you dripping (but it's mainly water, so make sure to hydrate).
56 Go for a ride Sarah Michelle Gellar makes riding a bicycle look cool again. Rent some bikes with your friends and tool around town for 40 minutes.
57 Ever tried badminton? It's not easy, but in 20 minutes it'll be worth it!
58 Rearrange Take fall cleaning to a new level and move your furniture around for 15 minutes.
59 Need some shine? Refinish your furniture for 15 minutes.
60 Decorate Hanging five pictures will give you a prettier wall and nicer arms.
61 Redo your closet Bending down and putting things away isn't too strenuous for Patricia Heaton. "The first thing I do when I break for hiatus: redo the linen closets, my closets and the kids' closets."
Article continues below advertisement
62 Paint It can take hours to paint one wall, but you're burning 100 calories for every 20 minutes. Think of what working on a whole room will do!
63 Go fishing In just 40 minutes, you can get some sun and maybe catch a healthy dinner.
64 Wax on, wax off Skip the car wash and do it yourself. Hose down your automobile for 20 minutes. Bikinis are optional.
65 Tight abs Do 12 minutes of nonstop crunches.
66 Breast-feed It isn't just good for your baby. It only takes two feedings to get rid of 100 calories.
67 Baby asleep? Push the stroller around for 30 minutes.
68 Ultimate Frisbee Invite everyone outdoors for a friendly, half-hour game of Frisbee. Rachel McAdams insists, "It's better than going to the gym."
69 Need a hug? Let goodbyes linger. Just 90 hugs can bring you closer to your family and to your goal.
Article continues below advertisement
70 Lose the remote Get up and change the channel 320 times.
71 Therapeutic massage Give your honey a massage for 20 minutes. (Make sure you get one in return!)
72 Wrestle Make it playful and flirty by wrestling your man for 15 minutes to steal the remote.
73 Hook up What's the best cardio of all time? Sixty minutes between the sheets. It's a win/win situation.
74 Jacuzzi Unwind afterward with an hour in the hot tub. You'll probably want to break it up into two to four sessions.
75 Crackberry It's okay to be addicted to your Blackberry. Every hour you text, you get rid of 100 calories.
76 Diaper duty Change your little one 52 times for a clean baby and a happy mommy.
77 Carry your tot Once your baby is clean and comfortable, tote him around for
20 minutes.
78 Giddy up Take horseback-riding lessons. It's fun, and 20 minutes of light riding will get you further than you think. Look at Madonna!
Article continues below advertisement
79 Wheeeee! Don't just sit on the bench while your kids have all the fun. Hop on a swing, like Christie Brinkley, for 30 minutes.
80 Jog Need to get your blood flowing? Jog in place for 12 minutes. You may look silly, but so does the person on the couch.
81 Burn at work Even though you may complain about sitting in front of the computer all day, you're using up about 100 calories an hour when you type.
82 Lift weights Weight training doesn't take long. All you need is 15 minutes and
you'll be getting rid of calories as well as building up those muscles.
83 Jump around Bounce on a trampoline for 25 minutes. You'll feel
rejuvenated!
84 Feeling tight? Stretch for 40 minutes.
85 Laugh out loud Laughter burns about 100 calories in 35 minutes, so a full hour of Live With Regis and Kelly goes further than you think.
Article continues below advertisement
86 Aerobics If it's a high-impact workout, 10 minutes should be all you need.
87 Pearly whites Brush your teeth 25 times. Your breath will be exceptional.
88 Floss Make your dentist (and gums) really happy and floss 27 times.
89 Groceries Take your time unpacking those bags. Just 25 minutes of bending down, opening the fridge and lugging gallons of milk does wonders.
90 Hit the snooze button Now you have an extra reason to sleep in. You burn 100 calories for every two hours you sleep. Make sure to get a full eight hours!
91 Hang up the phone Catch up with your family and friends via e-mail. Send long
notes to at least six relatives.
92 When's the last time you played with a yo-yo? Pick up your old habit for 25 minutes a day.
93 Bravo! If you really enjoyed the performance, clap extra hard. Every 45
minutes does wonders — but may leave your palms red.
94 Ditch the sneakers Rollerblade for 17 minutes.
95 Love the rush from skiing? Go down the hill five times.
Article continues below advertisement
96 Take out the trash You'll save money on your kids' allowance. Go 80 times back and forth up the driveway.
97 Say cheese! Smile wide 25 times for the camera.
98 Handstands Have contests with your friends. Michelle Trachtenberg gave it a shot: "I tried gymnastics at one point," she says.
99 Get down and give me... Take yourself to the limit by doing 97 push-ups.
100 Relax Spend an hour reading OK! cover to cover.
- Karen Berg
Estimates are based on a 150-pound individual. Contributed by eDiets.com Chief Fitness Pro Rapael Calzadilla, B.A., CPT, ACE