NEWS
106 & Park Celebrates its 2000th Episode!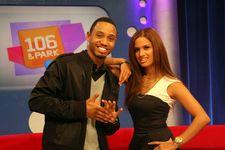 It's celebration-time for BET's 106 & Park.
The entertainment show is celebrating is 2000th episode with a star-studded episode tonight!
I rang up hosts Terrence J and Rocsi to find out the scoop on the big day, though Terrence almost kept the news for himself.
"I wanna keep the secrets to a minimum so people are sitting on the edge of their seats for this," he said.
Come on, guys, spill a little!
"We have a lot of people who have been there since the beginning coming by," shared Rosci. "Artists like Busta Rhymes and LL Cool J who basically grew with us and the show."?
Article continues below advertisement
Terrence then piped in. "T.I. and Jennifer Hudson will be stopping by too."
Dreamgirls jackpot!
Terrence and Rosci recalled some of their most memorable moments since they joined the show in 2006.
"When Harrison Ford came to the set I was about to cry," Rosci revealed.
"Anytime I'm sitting on the couch with Janet Jackson, that's one of the best for me," Terrence exclaimed.
The duo's in agreement on who'd they like to have on as the show kicks off episode 2001 and beyond.
"I would like to see Barack Obama come and grace us on the couch to speak to the kids. And there's always Oprah," Rosci said.
"Michael Jackson is on the short list," added Terrence.
But Terrence stressed that tonight's episodes is for their fans.
"We wouldn't have made it to 2000th episodes if it wasn't for their support," he declared.
You're welcome!
106 & Park, the 2000th episode, airs Wednesday, Aug. 20 at 6 p.m. on BET.