NEWS
13 Things We Learned About Online Dating From Alex Stein of Bravo's Online Dating Rituals of the American Male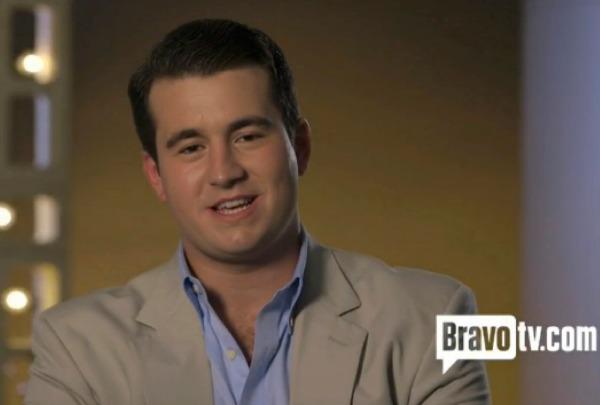 Just saying the phrase "online dating" to people usually gets a pretty telling response. Some people are frustrated and stressed by it and others think it's just one big party. Chatting with Alex Stein who stars in the first episode of Bravo's Online Dating Rituals of the American Male, it's very clear which one of those groups he falls into. He loves it. He thinks it's a great way to meet people, to hook up and even to make friends. Here are 13 things we learned about online dating from Alex.
Article continues below advertisement
1. Guys care about looking good.
When Alex calls for the interview, he's currently taking a stroll down Sunset Boulevard in LA because he has a TV appearance later that day and thinks "If I can get a little exercise and be a little sun-kissed, it will make me look a little better. I gotta look good, I got this Bravo show coming out, I gotta stay in shape, trying to lose some lbs for these ladies."
2. It's all about the bathing suit pic.
When asked what he's looking for when it comes to the pictures (usually the first thing a person looks at on a profile) Alex is very clear. "I have pictures of myself in a bathing suit so I would prefer a girl to have pictures of herself in a bathing suit.If you're not willing to have a bikini pic then you're hiding something. And I like women all shapes and sizes, it doesn't matter. I want somebody who has enough self-esteem where they're not afraid to put a picture of themselves by the pool or with friends at the beach, you know, joking around and scantily clad."
Article continues below advertisement
Watch: A Mean Girls reunion might be happening soon!
3. It ain't about the money honey.
"If there's anything on a woman's profile that says 'looking for a guy with money' or anything about money, that is the biggest red flag in the world. They're in it for all the wrong reasons and someone like that who is that candid with that opinion, to me is a terrible person."
And what a guy like Alex IS looking for? "Any attempt at showing a sense of humor is a big turn on to me because I'm a silly guy. I like to joke around, so I really look for a girl that has a funny bone because those are the girls that I most connect with and click with."
Article continues below advertisement
5. Online dating sites are great places to find someone to hook up with, and it's not just the guys who feel that way.
"We live in a day and age where I don't think people should be sexually repressed. I don't think there should be a double standard and I think as mammals women want to have sex just as much as men. I'm just saying what people are afraid to say", Alex boldly states.
6. That's not to say guys aren't looking for a long-term relationship. Well, some of them.
Alex reveals that he is definitely interested in meeting the right lady for him...eventually. "I want to get married one day, I want to have kids, there's no doubt. That is my dream, but at this moment that's not my number one goal. I have a lot of friends my age and that's all they're looking for. Maybe they're successful in business but they're not successful in love and they're so dead set on it, that they don't have a partner for life because they haven't found her yet. And they have all this pressure, but I don't put that pressure on myself because I want it to happen organically, whether it's someone I meet on the Internet or on the street. I just don't want to force the issue."
Article continues below advertisement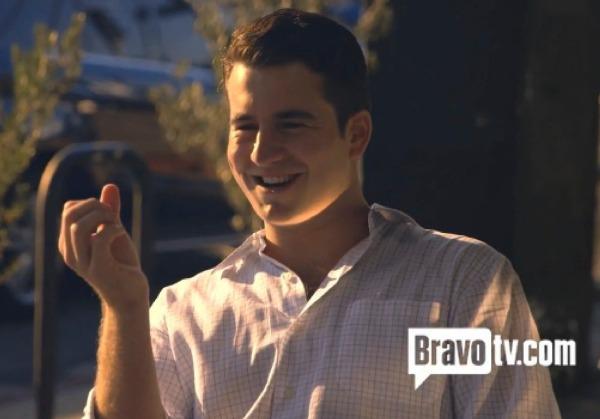 7. Guys do get hurt when you don't respond.
"When you send a message you put yourself out there and I want them to respond. If they don't respond it does hurt my feelings. Does it kill me, does it make me depressed, does it make me upset? No. But it definitely does tweak my feelings a little bit for sure" Alex confesses.
8. Don't do dinner.
After many, many dates, Alex imparts this wisdom: "Don't go to dinner because then you're stuck there for all 3 courses. Do something like coffee or go to a bar and have a glass of wine so you can get in and out because a girl and a guy know within the first 5 seconds of looking at each other if there's any chemistry. It doesn't take a 2 hour meal to develop chemistry, it's usually right off the bat in my opinion."
Watch: Which Housewife has the best brand of booze?
9. If it doesn't click romantically, it's not a total loss.
The Online Dating Rituals of the American Male star says he has become friends with "multiple girls" he met on a date and things didn't really spark romantically, but they've remained friends.
10. You're going to meet people with radical views.
In the trailer (above) for the show, Alex is heard saying he hates condoms which is a pretty eyebrow-raising thing to say on a first date, but Alex stands by his statement. "Let's just be real: sex is just better without a condom. Everybody thinks it, I'm just the first person to say it."
Article continues below advertisement
The good news is he's not expecting the lady he's meeting to be the same way. "I can't expect a nice lady to be anything like me. I think part of being a lady is keeping things to yourself and having manners and being polite. The more different a girl is from me, the more I like her."
OK! News: Aaron Carter is trying to win Hilary Duff back!
11. Dating sure is different these days!
"When you're at the bar or a nightclub or trying to talk to someone on the street, it's so much harder to wade through all the crap to find what you're each looking for.With online dating, you're finding like-minded people, you're finding girls that want to go get a cup of coffee, who want to go get dinner. The computer makes it so much easier and the success rate is much higher. I don't even know how people dated in the 50s, 60s, 70s and 80s."
12. Everyone's doing it.
Since Alex is having such a fun time with his adventures, he's helped convinced a lot of people in his life to jump onboard the online dating train. "I've convinced a lot of my good friends, and probably the biggest person I've convinced is my dad. My dad is single and he ended up getting a bunch of dates."
OK! News: Kim and Kanye set a wedding date
13. Bad dates are the best.
Article continues below advertisement
Alex says he gives friends "the Cliffs notes of a date" because "it's interesting to hear the other trials and tribulations other people have faced before you (on a date) and its entertaining. A bad date story is probably the best story there is!"
As for Alex? He's ready for your comments. "I know my personality, and sometimes my aggressiveness and the way I act, it's going to put some people off. But the people it entertains, those are the people that I like, that are my friends and that get my humor. What one person's gonna like on TV, another person's gonna hate so I can't please them all. As long as you're talking about me, I'm satisfied. So ladies, bring the comments, Tweet at me, Instagram, whatever. I'm excited for it. But like I said, bring it. End with I said bring it!"
Well Alex, at least you found what you were looking for here.
See Alex in action this Sunday night at 10 p.m. ET on Bravo's Online Dating Rituals of the American Male.
Do you agree with what Alex said about online dating? What do you disagree with? Tell us in the comments below or on Twitter @OKMagazine.