NEWS
The 2011 'Time' 100: Justin Bieber, Chris Colfer & Blake Lively Make Most Influential People List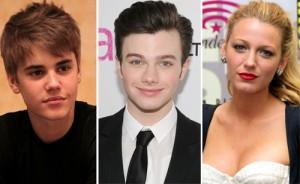 Time magazine released it's hotly anticipated 100 list — a roster of the 100 most influential people in the world. As always, a handful of celebrities were included on the list, and young Hollywood made it's mark. We were happy to see that Justin Bieber, Chris Colfer and Blake Lively all made the cut!
Time proudly hails its 100 list, writing: "Meet the most influential people in the world. They are artists and activists, reformers and researchers, heads of state and captains of industry. Their ideas spark dialogue and dissent and sometimes even revolution."
Article continues below advertisement
OK! NEWS: JUSTIN BIEBER DUBS CHARLIE SHEEN THE "MOST INFLUENTIAL PERSON" IN THE WORLD
The mag had fellow stars write a few words praising the influential celebs chosen.
Read some of our favorites from Time, below.
Justin Bieber by Usher
From the minute I met Justin, I knew this kid possessed a certain confidence that only a star could have. He was born a star. He knew what he wanted to accomplish; all he had to do was get everyone else to believe it. Now, looking back at his incredible run, the reality of who he is and what he's accomplished far exceeds anybody's expectations of him. What's interesting and will keep the world watching is that at the same time he's having this incredible success, he's like any other kid living a normal life. It's like our vocal coach "Mama" Jan Smith tells us: You gave up normality a long time ago for spectacular — not many people can be that, so enjoy it. And you know what? Stay tuned, because his story will get even better.
Chris Colfer by Dianna Agron
Chris has wanted to be an actor, as he says, "since I was an embryo," which gave him the determination to say, "Yes, I can," despite the many who had said no. Chris, 20, lives by extreme truth, speaking out against the epidemic of bullying that he, too, faced in high school. The honesty that he infuses into his Glee character, Kurt, leaves you reeling. Our cast is blessed to hear things like "Your character has helped me through this, or helped me do that," but none more so than Chris. To witness the power he gives to his audience firsthand? It's wonderful.
Article continues below advertisement
Blake Lively by director Baz Lurhmann
Every now and then, an actor or actress manages to somehow channel the vitality of youth — that indefinable, natural, unprocessed glamour full of possibility and filled with anticipation for an endless future. I've known Blake the actress, and I've known Blake the person, who would surprise many with her down-to-earth coolness. She makes you feel that she, and life, are going to go on forever.