NEWS
'21 Jump Street' Bromance: Jonah Hill Held Channing Tatum's Hand "All the Way Through It"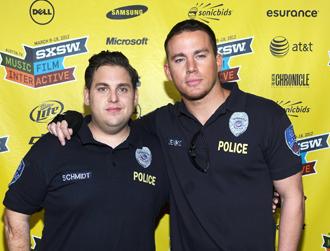 There's a serious bromance going on between 21 Jump Street co-stars Channing Tatum and Jonah Hill! The film premiered at South By Southwest in Austin, Texas, last night and the former male stripper and Oscar-nominated actor were full of compliments (and loving jokes) for each other during a Q&A for the film.
OK! NEWS: JONAH HILL & CHANNING TATUM STAR IN 21 JUMP STREET TRAILER
It sounds like 21 Jump Street is going to be a big success at the box office based on Jonah and Channing's passion for the film.
Article continues below advertisement
"I got a call from Jonah when I was in Toronto shooting a movie, and I wasn't sure why he was calling me," Channing explained during the Q&A. "But he really did tell me about his passion for Jump Street and how long he had been working on it. They sent me the script over email and they only sent me about 50 pages. I was like, 'Is there an ending?' and they said, 'Yup, we'll send that to you.'"
"But we'll need the answer first," Jonah joked.
"I didn't need to read it though. I mean I really didn't. I've watched this kid forever and I'm a huge fan. I don't think Ice Cube was on just yet, but then the directors called me and it seemed like some of the most fun that I've ever read of the 50 pages that I read. I was like, 'Alright man, if you promise that I'm going to be funny then I'll sign.' And he did, man. He really helped me and held my hand all the way through it."