NEWS
3 Doors Down Frontman Takes Love on the Road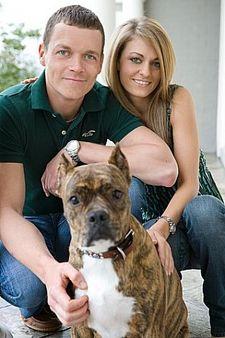 3 Doors Down frontman , 29, is rekindling an old flame after his six-year marriage to wife Terika ended in 2007. His girlfriend, Jennifer Sanderford, 25, is a childhood pal who moved away.
"My best friend is her first cousin, and me and him got divorced about the same time," Brad tells me. "Jen was actually bringing one of her friends down the coast to go out with my best friend. But he didn't want to go by himself. He was like 'will you go on a double date with me tonight?' and I was like 'with who?' He was like 'You remember Jen, right?' and I was like 'well hell yeah!' We went out and we just hit it off. I love her with all my heart. She's a sweet girl. She's my angel."
Article continues below advertisement
Jennifer recently joined her man on the road.
"When we were leaving the house to go down to start our tour in Panama City, I knew it was going to be hard on her to come home by herself," he tells me. "I left her a little notepad on the bed that said 'I love you every day.' I knew she'd see it when she got home and I knew she'd smile. She said she enjoyed it."
Why are they good together?
"She inspires me. She makes me want to be a better person. I love everything about her. I love to wake up in the morning and see her still asleep beside me. I love to lay down by her at night. She makes me feel good all the time. She never, never judges me and only encourages me. She's quick to point out the good and not quick to point out the bad. There's a lot of things I love about her."
The couple resides in Nashville.
3 Doors Down's self-titled disc is in stores Tuesday.