NEWS
50 Cent Turns Blizzard Into Lucrative Business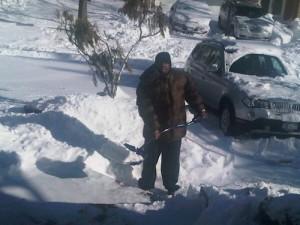 Is the estimated 30-inch blanket of fresh snow putting a damper on your day? Need some help shoveling? How about enlisting rap icon 50 Cent to aid in the blizzard clean-up!
Rapper/actor 50 has hit the streets, shovel and cell phone in hand, offering to plow his way through his neighbors' driveways and cars.
OK! NEWS: CHELSEA HANDLER CRAWLS INTO BED WITH 50 CENT?
And the rapper even enlisted some help from kids in the neighborhood
Article continues below advertisement
His most recent Tweets document 50's business endeavor.
*Note his clean-up crew isn't working for free!
"I'm going out to shovel snow and see if I can make me a few extra dollars today. I'm charging more if they want to take pictures." the rapper Tweeted. "I want a hundred dollars per house. I bet anybody ill make a grand moving snow today. Lol"
And the Tweets didn't stop there, as 50 continued to document his shoveling expedition. We don't know how his fingers didn't freeze as he was typing!
• "I got 4 people on one street to agree to my fee after they saw the first job I did. Now I'm looking for employees."
• "I'm paying 30 dollars and hour I only want 3 workers that 90 dollars and hour but I think we can do all 4 in a hour in a half. Lol"
• "One is a cute kid he has on a snow suit. So I'm sending him to ring the door bell to ask if we can shovel there snow. Lol"