NEWS
90210 Recap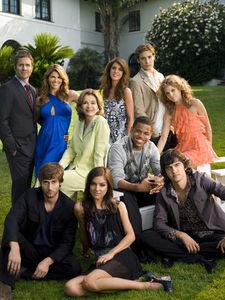 We've finally seen it. The new 90210. Collectively, breathe.
There was a whole lotta talk whether the new 90210 could live up to its original roots.
My verdict after watching the premiere episode? Not exactly. But it holds its own.
The Wilsons, Annie and Dixon and their parents Harry and Debbie, migrate to Beverly Hills to take care of granny Tabitha, a legendary actress in her heyday who keeps the memories of yesteryear alive with a whole lotta booze.
Article continues below advertisement
Annie and Dixon take on their first day of West Beverly Hills High and pretty much prove, to quote Dixon, that high school "sucks." (Still… bummer.)
In two hours, we find out that the school's queen diva Naomi is about to throw her 16th birthday. The big gift? Learning her hot lacrosse-playing boyfriend Ethan is cheating on her!
Renegade blogger Silver has a one track mind to destroy Naomi since she tossed away their BFF status at the end of their pre-pubescent days, and she does so gleefully.
As the hot new transplant, Annie has no problem having guys fall at her feet, including her former summer fling and newly single Ethan, and the school's richest boy, Ty Collins.
He's tall and handsome; he can sing and he charters a private plane for their first date. Ummm, where do I sign up for that after-school activity?
She also scores a role in the chorus of the school's production of Spring Awakening. Any Broadway reference in a TV show is cool with me.
Article continues below advertisement
Dixon tries to prove he's not just the principal's son by pulling a prank on a rival school, against his father's stern warning to do nothing to the opposing team.
High school storyline staples. Nothing new there.
There were some surprises. Who would have thunk that upstanding principal has an illegitimate grown son? Or that Kelly's now a single mom? Or I would be so hot for teacher Ryan Matthews. I'll write you a book report any time!
So yes, the new 90210 is faster, racier and more furious than the days of Dylan and Brenda (welcome back, Shannen!). After all, we got a gratuitous b-job shot before the first bell.
But the sexual shenanigans of these horny teens don't seem nearly as bad as another CW show chronicling high school antics.
And that's kind of what makes 90210 enjoyable.
While the pace of high school has changed, the problems have not.
Article continues below advertisement
There's still the poor, little rich girl whose boyfriend leaves her because she's just doesn't get him. The gal dealing with drug addiction. The roundup of jocks, video geeks and Goths, still working overtime to figure out where they fit into the teenage landscape.
For better or worse, that's what high school is all about.
The two hour premiere was a bit much for me to take. I felt it started to drag in the final 45 minutes.
But a one-hour weekly edition may just make me want to revisit a very familiar zip code.
Catch 90210 Tuesdays at 8 p.m. on The CW.