NEWS
90210's Noureen DeWulf joins Maneaters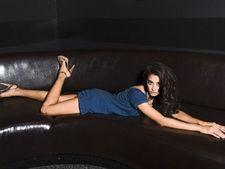 Working on 90210 seems to be a great jumping point into film and mini-series.
Along with the news that series stars Annalynne McCord and Brandon Michael Vayda are up for roles in the Twilight sequel, (read more Twilight secrets in the new issue of OK!, out Thursday), the TV Fanatic has learned that 90210 guest star Noureen DeWulf has been cast in Maneaters, a Lifetime mini-series about to start production in Arizona.
Article continues below advertisement
Based on a book by The Starter Wife author Gigi Levangie Grazer, Maneater tells the story of Clarissa (played by Scrubs' Sarah Chalke) who's used her beauty and wits to land the hottest producer in Hollywood.
Noureen plays Polo, a stunning young woman who believes she is suffering from a myriad of medical ailments and is always seeking out the hottest new cure.
No doubt, we'll be taking a bite of out this mini-series!