NEWS
Aaron Eckhart on Jen Aniston's Signature "Sweetness & Innocence"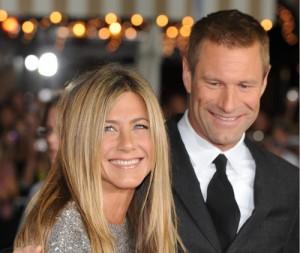 She doesn't have the nickname "America's Sweetheart" for no reason. Jennifer Aniston's former co-star Aaron Eckhart opened up to OK! about the 41-year-old beauty's charismatic nature and why her good vibes are so contagious!
"Jen has a sweetness and an innocence in a reality that no other person has," Aaron told OK! exclusively about his Love Happens co-star at the Battle: Los Angeles panel during Comic-Con 2010 Thursday in San Diego.
Article continues below advertisement
"She has the ability to be the girl next door as well as this adventurous side," Aaron continued. "You'd think that she was just going to live quietly in a white picket fence and two cars, and then she's off jet-setting with rockstars and this kind of stuff."
Aaron had no problem expressing his feelings for Jen, who he immediately felt a connection to.
"She has this duality in her that people are attracted to. She won me over the second I met her."