NEWS
Aaron Sorkin on Mark Zuckerberg: "My Hat's Off to Him"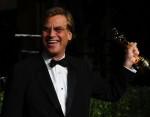 As he gave his Oscar speech for Best Adapted Screenplay, The Social Network screenwriter Aaron Sorkin noticeably did not mention Mark Zuckerberg as he did during his Golden Globes speech. Back stage was a whole other story as he praised the CEO of Facebook.
OK! VIDEO: JESSE EISENBERG COMES FACE-TO-FACE WITH MARK ZUCKERBERG IN AWKWARD SKIT
PopSugar reports that Aaron mentioned in the press room that Mark's been an "awfully good sport about this film." Especially considering not many people would want a movie made about things they did when they were 19 years old!
Article continues below advertisement
OK! NEWS: THE SOCIAL NETWORK REIGNS SUPREME AT ACE EDDIE AWARDS IN L.A.
"And if that movie absolutely, positively had to be made, you'd want it to be made only from your point of view. And you wouldn't want included the point of view of people suing you for hundreds of millions of dollars and have a visceral, emotional reaction to you. That is the movie we made."
Aaron recalled Mark's appearance on Saturday Night Live, taking his company to see the movie in October, and of course, his $100 million gift to the New Jersey school system. He added, "So my hat's off to him."