NEWS
Academy Award Nominations: 'The King's Speech' Gets the "Royal Flush"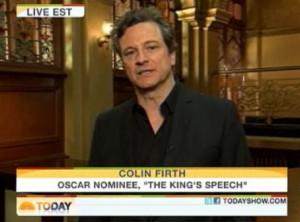 Colin Firth is very grateful for his Academy Award nomination, which was announced this morning. But he's really excited about is the fact that his film, The King's Speech, got the "royal flush" with his co-stars being nominated as well!
OK! GALLERY: COLIN FIRTH & CAST HOLD A PRESS CONFERENCE FOR THE KING'S SPEECH
Colin was nominated last year but lost to Jeff Bridges. Now this year, the two are nominated again together.
Article continues below advertisement
"Something has to be done!" Colin jokingly told Today. "I don't know. What I felt last year, you know, your head spins when you hear the news. What I felt last year I don't know if it has to get any better than this really.
"If you wait 50 years for something and then you hit a moment like this it's celebration enough," he added. "So I'm just thrilled to be at the party."
And having Helena Bonham Carter and Geoffrey Rush nominated for the film as well is cause for celebration!