NEWS
Actor David Carradine Dead at 72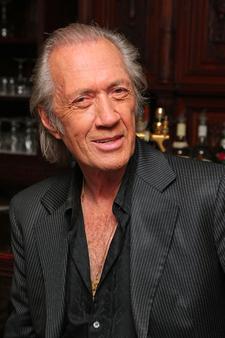 Horrible news for film fans around the world: actor David Carradine has died at the age of 72.
According to Entertainment Tonight, the Kill Bill star was found dead earlier today in his hotel room in Bangkok, Thailand, where he had recently traveled to shoot his next film, Stretch.
The cause of death has not been officially announced, but unconfirmed reports out of Thailand claim the actor committed suicide by hanging himself.
Article continues below advertisement
David is a member of one of Hollywood's most prolific acting families. He was the oldest son of acting legend John Carradine, as well as the brother Oscar-winner Keith Carradine, actor/director Robert Carradine and Kill Bill co-star Michael Bowen. David's daughters Calista and Kansas Carradine are both actresses, as are his nieces Ever Carradine and Martha Plimpton.
Though he'd worked on dozens of films and TV shows, Carradine is perhaps best known for his role in '70s martial arts series Kung Fu and its '90s reincarnation Kung Fu: The Legend Continues. More recently, he was nominated for a Golden Globe for playing the title role in Quentin Tarantino's Kill Bill movies.
Our hearts go out to Carradine's family and friends during this difficult time.
DAVID CARRADINE REMEMBERED:
<a href="http://www.okmagazine.com/pixandvids/gallery/14697/1" target="_blank"><img src="https://d-images.okmagazine.com/img/photos/large/30625.gif" height="100"/></a>
<a href="http://www.okmagazine.com/pixandvids/gallery/14697/2" target="_blank"><img src="https://d-images.okmagazine.com/img/photos/large/30610.gif" height="100"/></a> <a href="http://www.okmagazine.com/pixandvids/gallery/14697/3" target="_blank"><img src="https://d-images.okmagazine.com/img/photos/large/30609.gif" height="100"/></a> <a href="http://www.okmagazine.com/pixandvids/gallery/14697/4" target="_blank"><img src="https://d-images.okmagazine.com/img/photos/large/30607.gif" height="100"/></a> <a href="http://www.okmagazine.com/pixandvids/gallery/14697/5" target="_blank"><img src="https://d-images.okmagazine.com/img/photos/large/30605.gif" height="100"/></a>