NEWS
Adam & Jessica: 9021-Oohh!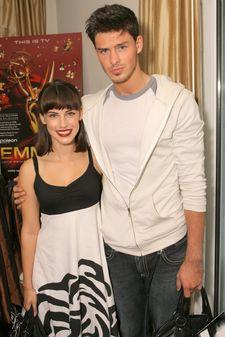 L.A.'s sexiest zip code just got a little steamier in real life!
90210 stars Adam Gregory, 20, and Jessica Lowndes, 19, flaunted their young love while shopping at L.A.'s Intuition on Oct. 7. Ohio native Adam tells OK! that he loves girls who are "smart, intellingent, fun and who are happy to wear sweats and watch a game."
Hmm, quite the opposite of the characters they play on 90210, but then again, Adam is a midwestern boy! Better start brushing up on those Bengals Jessica!
Article continues below advertisement
Meanwhile, Jessica, who plays drug-addicted drama student Adriana on 90210, recently discussed her character's upcoming confrontation with Brenda Walsh, a.k.a Shannen Doherty.
"I've got a lot of emotional, confrontational scenes with Shannen coming up," she said, adding that her character's addiction will become more intense as Adriana becomes crazier, requiring a verbal smackdown from Brenda.
When it comes to playing such a rough character, Jessica says, "Adriana is really into the drugs right now, and the people at Coffee Bean keep asking me why I'm taking so many shots of espresso. I'm doing it for my character!"