NEWS
Adam Lambert and Katy Perry Respond to 'American Idol' Judge Rumors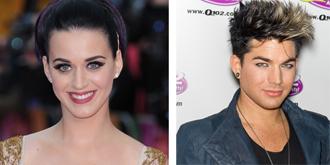 Article continues below advertisement
"I'm just hearing about this today as well and so what a beautiful rumor," he gushed. "Listen, if — and I say 'if' with a capital I-F — if they were to approach me and if they were to say, 'We want you to be a judge on the show,' I would love that. I would jump at the chance."
So that means we definitely may see our favorite Glambert rubbing elbows with Randy come Season 12.
Katy, on the other hand, wasn't as thrilled with the idea and rejected the yet-to-be-made offer.
Katy made a possible swipe to Paula Abdul when she told THR it's unwise for the network to hire artists who aren't at the peak (or close to the peak) of their careers.
"I find it completely hilarious when they hire people that are not current in music and haven't been for a decade or longer," she said. "Or if they're not even in music. How are you going to give a perspective when you haven't even lived that perspective?"