NEWS
Adam Lambert Dishes on His Dream Duet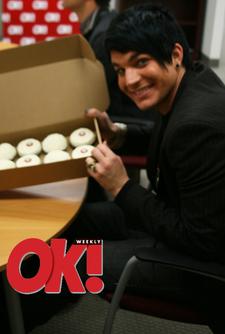 We've been very lucky at OK! magazine these days: First American Idol winner Kris Allen stopped by yesterday to chat and chow on cupcakes, and then today we were visited by the one and only Adam Lambert.
The busy glam rocker sat down for a bit and dished on his celebrity fans, his dreams of dueting with Madonna, and what he can't wait to do when he's got a moment to relax (and yes, we fed Adam cupcakes from Sprinkles too!).
Article continues below advertisement
You were kind of the celebrity favorite, Katy Perry had "Adam Lambert" on her back!
That was so crazy. It was news to me as it was happening. I went like "WHAT!" and she looked over at me during the number. I was really, really flattered about that.
We heard about the Idol tour. Tell us about it.
It starts July 5th in Portland. And I'm thrilled, it's going to be great. The set that they came up with is awesome. It's gonna be really good. There's gonna be some new stuff on there, I can't reveal the secrets, yet. I'm sorry. It's not locked in yet, maybe when it's locked in, I can.
We heard a rumor that you and Allison will do a duet.
Okay, I can confirm. Okay, yes, yes. We're doing "Slowride," what we did on the show.
The fans love you. Are they Glamberts?
Some of them are Glamberts. There are different groups. I love the term "Glamberts" though. I think it's hilarious.
PICS OF ADAM'S VISIT TO OK!:
Regarding the comparison between you and Kris, with him as the musician and you as the entertainer, how did you view yourself?
Article continues below advertisement
Yeah, I mean there's something to that. Kris and I are definitely very different as artists, and it's up to the viewers at home or the listeners at home. It's what they like, and some people want the mellower, earthy, human, boy-next-door kind of thing. And some people want escape and party and over-the-top. It depends on what you like.
Did you see yourself progressing throughout the process? How have you changed?
You know, I think I've learned a lot by watching the videos from week to week and getting to kind of see, like okay, that worked, nah, maybe I don't need to do that. You can kind of edit yourself, in that regard. Also, I think that I learned how certain songs, are received differently. Just certain styles of singing or certain approaches to songs are received differently and it's really interesting to see both the judges and the audiences' reactions and just see what works and what doesn't. So I've learned a lot.
Article continues below advertisement
Did you have any regrets throughout the season where you thought I wish I had changed that song?
I really don't have any regrets. I think everything went really well. Clearly, I mean I got to the end, which is all I wanted out of it. It wasn't about the title. It wasn't about the judge's approval. It was about staying on the program as long as possible and getting to utilize it as a platform.
What's been your favorite song to sing either on the show or off the show?
It's hard for me to say favorites because I'm bad at favorites. It's hard for me to pick one. I got a big kick out of doing "Whole Lotta Love" by Led Zeppelin. They're one of my all time favorite bands. Going into it, I was like wouldn't it be cool if I could sing a Zeppelin song? And they were like, "It won't clear," you know and we finally tried toward the end and it was great because the people who were members of Led Zeppelin, their kids were fans. That kind of helped out and worked out in my favor, I think.
Article continues below advertisement
If you could have a dream duet with anyone, dead or alive, who would your dream duet be?
I really want to work with Madonna. It doesn't seem like a likely pairing, maybe, but I just think that she is so creative and has such vision and her career has been so long because she has been able to come up with something new and keep people guessing and push people's buttons. I like that she's relevant, she's always the next thing, she's always introducing us to the next wave of pop. I just think it would be an honor to work with her.
What's the sound you're going for now versus the future? Do you think it's going to change?
It could, yeah. We'll see. I think that definitely rock will be at the heart of it. But, there will be a pop sensibility and I want it all to have an electronic production. You know what I mean? Almost as if it's nodding to glam rock and classic rock from the '60s and '70s but giving it, like something you'd hear on today's dance floors. If that makes sense. Kind of a fusion thing.
Article continues below advertisement
Being on Idol is a little crazy. Who did you turn to for advice, support the whole time?
The two guys that I worked with the most were Michael Orland and Dorian Holly. They were my team that was assembled, there were different teams of people, a vocal coach and a musical coach. Basically, people that I would bounce it off of and kind of get their opinion and get their advice from. They were great. They were so supportive and Idol in general, the producers, everybody was very embracing of any new idea. I never felt stifled in anyway. It was awesome.
Did you find that Simon was a mentor?
It felt really good to have his approval because we obviously know that he is a tough critic. Once he got onboard, the support from him really made me feel like I was doing it. I think it gave audiences almost permission to root for me. I think that sometimes people are a little bit afraid of what they may not know or what they aren't used to and I was really, really thankful that the judges were supportive because it allowed the audience to get onboard.
Article continues below advertisement
What's the first thing you want to do when you're done? When you have a minute to breathe?
Sleep would be nice. I would love to sleep, that would be fun. Like all day, in bed, you know, like veg out, in front of the TV.
What are the things that you take on the road with you?
Gotta have the iPod, gotta have the tunes with me. A good book, I like reading. Now that I'm going to be on a bus, I'll have time to do it.
Any specific authors?
I loved the Twilight books, they were really good, but I think that series is over.
I read all the books. I read them all in like a month. I was really obsessed with that. No specific authors right now. I think I would have to ask around, but I like reading. So, it will be nice to do that again. So, iPod, book, gotta have all my clothing. I love clothes.
What is something that no one knows about you?
I think everybody knows everything.
They try to.
It's been wide open lately. I don't know, I really don't know. Everything's been asked, literally.